So, this week has been epic for online marketing.
Read on to find out more.
1. SEO News
The layout and content of SERPs (Search Engine Results Pages) are changing at an astonishing speed.
On the one hand, this is because search engine companies seek to maximize ad revenues by deploying advanced AI tools and algorithms to find ways to seamlessly blend ads with organic results, to keep users on-platform as long as possible, ideally until they've found what they were looking for… all without clicking away to a third-party site.
On the other hand, these big tech companies also aim to provide users with increasingly enriched, tailored experiences/journeys served through a variety of different features and media formats.
📢 Google's "Things To Know" Feature Vanished from Desktop
🔁 A Quick Recap:
This module was announced earlier this year at the tech giant's flagship event, Google I/O .
The Things To Know (TTK) module appears at the start of the "customer journey" on Google, helping users refine their searches. Last week, however, the feature disappeared from desktop queries, as noted by RankRanger, whose founder, tweeted that :
"Things To Know was removed a few days ago from desktop, my guess is the live test was not as expected and it being refined. Things To Know on mobile is still alive and pretty stable on ~1%."
🛈 What You Need To Know
📌 TTK is a feature under the "direct answers" category in Google Search and was still in beta.
📌 It will probably come back within a few weeks with a couple of tweaks.
📌 TTK is powered by MUM, Google's Multitask Unified Model, a set of AI tools that are designed to semantically understand questions and offer up helpful extra information from organic traffic.
💡Top Tips:
✅ Try using mobile to check out the content that appears in TTK modules and is relevant to your sector.
✅ If this data is useful, make a note of it as potentially interesting new content, as long as it is not too off-topic.
Sources: RankRanger
📢 Google Added A New Third-Party Reviews Section
The new module shows reviews of products (or comparison lists) sourced from Google's affiliate review sites. The feature itself is called "Appears On These Lists" and appears in the Knowledge Graph Results module (on the right-hand side) for users running queries on products.
It was spotted by SEO Specialist Brian Freiesleben and posted on Twitter.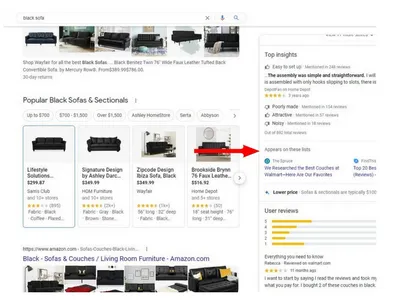 A similar function may be being tested in "Google Hotel Listings" as discovered last week by SEO Analyst Khushal Bherwani and posted on Twitter . Below the listings, there is a section called "Featured In", again showing third-party reviews.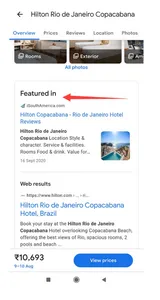 🛈 What You Need To Know
📌After a user clicks on a product in the product carousel (or product grid on mobile), the feature appears on desktop and mobile below the Top Insights module.
📌Third-party reviews give credibility to products displayed.
📌This is, however, affiliate or paid traffic - not organic.
📌 Apart from the revenues generated from the listings, Google benefits from showing this extra information since users stay on the platform longer, rather than clicking away to find it for themselves.
💡Top Tips:
✅ For product sites, check out the review links appearing for similar products and work towards getting promotion there. Perhaps include this point in your marketing goals.
✅ For hotel owners, ensure your free third-party reviews are up to par, for example Trustpilot, and that requesting feedback and reviews become part of daily customer service protocols.
✅ Likewise, be always on the lookout for ways to engage reputable third-parties to be included in such publications. For example, write press releases and do other online promotion when new services or events are launched.
Sources: Tweet of SEO Specialist Brian Freiesleben , Tweet of SEO Analyst Khushal Bherwani
📢Google Is Testing New Expandable Icons for Items In Related Searches
Google has added some expandable icons in its "Related searches" and "People also search for" modules in Google Search to switch up the user experience a little and engage users for longer.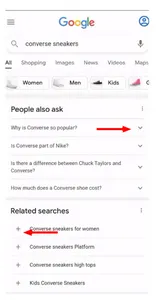 This was spotted by Saad AK on Twitter who shared this in a scrolling video that shows the full search.
🛈 What You Need To Know
📍This is Google testing UEX features to refine on-platform searches, as per the changes mentioned above.
💡Top Tips:
✅ Check out related searches for long-tail keywords you may be missing.
✅ If you sell products, explore the expandable content to see if you can create something relevant that may be used.
Sources: Tweet of Saad AK
📢 Google Maps Is Testing Infinite Scroll For Search Listings
🔁 A Quick Recap:
Google Search has tested infinite scroll for search results on and off over the years. In 2021, continuous scroll on mobile was launched as a slower and more user-friendly version of infinite scroll.
Punit , a Search Specialist, spotted this infinite scroll feature and posted a video of it on Twitter
🛈 What You Need To Know
📌 Google Maps is shown in the video as now being subject to the infinite scroll test.
📌The scroll in the GIF displayed in Twitter is too quick to be able to read and review the data.
📌 It is likely that this was a quick test and will be improved in some way soon.
💡Top Tips:
✅ Keep an eye on Google Maps to see how this feature will be improved greatly in the near future.
Sources: Tweet of Search Specialist Punit
Microsoft Bing Is Really Busy Testing
Microsoft Bing has been really busy testing, adding and removing new features. This week has been no exception. The new features are being reported by users, so we can't be clear what is being tested or officially launched until Bing confirms this. So let's see what's been going on:
📢 Bing Is Testing A Box & Carousel for Related Stories on Desktop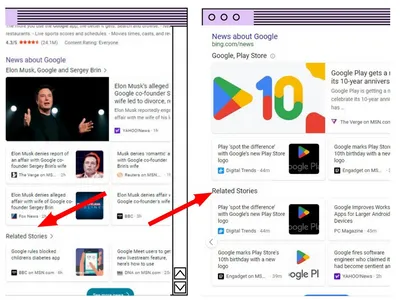 🛈 What You Need To Know
📌 The image above shows the box on the left and the carousel to the right.
📌 These modules are not featuring organic traffic; it may be sourcing from advertisers, affiliates or authoritative sites.
📢 Bing Is Testing Search Query Results In A Carousel Format
Last week, Shameem Adhikarath reports in Twitter that Bing was testing a carousel feature on its search results page.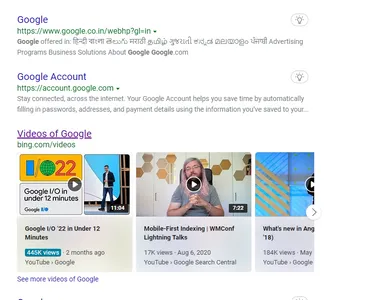 🛈 What You Need To Know
📌 This feature is using organic traffic.
📌 All screenshots sent in seem to have a distortion of the top image; this will no doubt be quickly corrected.
📢 Bing Is Testing YouTube Music In Its Main Search Bar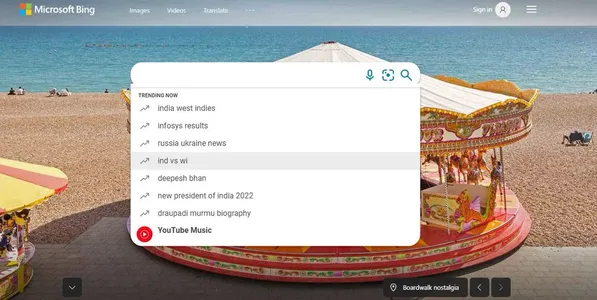 Firstly, it was noticed by Shameem Adhikarath on Twitter .
🛈 What You Need To Know
📌 This might seem contradictory, since YouTube is owned by Alphabet and is therefore adding content from its main competitor.
📌 However, it might be it's a smart move since Bing wants people to stay on its platform, and people are very used to seeing YouTube incorporated into its main competitor: Google Search.
💡 Top Tips:
✅ This is certainly a somewhat controversial feature to keep an eye on.
📢 Google Has Updated Its Search Quality Evaluators' Rating Procedures
🔁 A Quick Recap:
Initially referred to as "Webmaster Guidelines", Google's guidelines have been around for 20 years, helping Google find, index, and rank your site. Moreover, they outline some illicit practices that could result in a website being removed from Google's index or penalized in the algorithm.
Google has a team of Quality Raters across the globe that specialize in using these guidelines to evaluate the quality of websites and therefore improve user experience and Google's algorithm. The guidelines have been constantly updated since then. Another update was published last week, in a 167-page PDF document .
🛈 What You Need To Know
📌 "The Your Money Your Life" (YMYL) section has been overhauled so that self-proclaimed experts (and everyone else) are now under scrutiny if they create content on websites or social media providing health and safety, financial security and other information that could be potentially harmful.
📌 Websites with a positive reputation can be marked as having low quality if the purpose and topic of the main content is found lacking in EAT (Expertise, Authoritativeness, or Trustworthiness)
📌The YMYL also now encompasses misinformation and topics that could be inherently dangerous (such as violent extremism) and people potentially harmed are redefined as not only the viewer, but their close circles and society as a whole.
📌 Earlier this year, the BBC reported that new legislation was passed for Australian financial influencers (Finfluencers) who provide financial advice without a license, meaning they could face up to 5 years in jail and a $1 million dollar fine.
💡Top Tips:
✅The table on page 12 is a "must-read" for content creators and webmasters,
✅ Google published a very helpful overview document explaining the quality testing and evaluation process.
✅ If you are a webmaster or content creator and have never read the document, now might be a good time to do so.
Sources: Google Search Quality Rater Guidelines: An Overview
2. PPC News
📢 Big Tech Announced Their Second Quarter Ads Revenues
After years of unhindered growth, last week the big tech companies announced their quarterly earnings to shareholders. Many investors had been especially worried about results given that there is much talk of a global recession and share prices have recorded massive declines.
So What Were Ad Revenues?
📌 Google Search ad revenue grew by 13.5% to $40.7 billion.
📌 Meta's total revenue, which consists almost entirely of ad sales, fell 1% to $28.8 billion.
📌 Amazon's ad services grew by 18% compared to last year, earning $8.76 billion in revenue.
📌 Twitter reported an ads revenue of $1.18 billion for the second quarter, down 1 percent year-on-year
📌 Snap, the parent company of Snapchat reported a 13% year-over-year ad revenue growth in Q2, to $1.1 billion, compared to 38% and 116% in Q2 2021.
📌 Spotify ad-supported revenue grew 31% year-over-year to 360 million (0.36 billion), yet losses grew to $422 million.
📌 Microsoft Bing Ads Revenues were up 15%, but they did not disclose any revenues
📌 We don't have intel on Apple's ad revenue because it is reported in a Services' category which includes profitable businesses like the App Store, Apple TV+, Apple Music, cloud services. What we do know is that Ad Revenue is a tiny part of this category.
💡Top Tips:
✅ As basic as it may seem, keeping up-to-date on the financial performance of the companies you use is important.
✅ Many news outlets report overall results, but advertisement revenues separately.
✅ Why did Microsoft Bing not disclose their revenues? It will be interesting to see what they do in the future as their platform is growing in market share.
Sources: Google Ads Revenue Report
📢 Bing Is Testing A Bigger Font In Its First Ad
Google did a similar experiment in 2020, increasing the size of the first ad, rather than in the first 4 ads, to see if there was any real difference. Now Bing is doing something similar. This was first spotted by Search Specialist Punit in a Tweet on the 28th of July.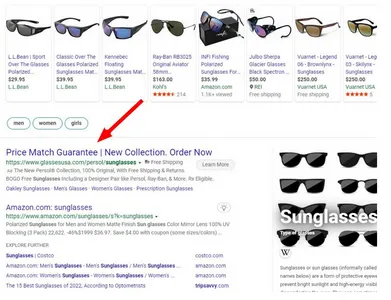 🛈 What You Need To Know
📌 When Google did a similar test, it didn't maintain the feature.
📌 Microsoft Bing is testing lots of new features at the moment, so we'll have to see if this continues once the dust has settled.
Sources: Tweet of Search Specialist Punit
📢 Google Has Updated Its Merchant Center Policy
Previously, all requests to open a Merchant Account with product or service data gated by a user login requirement or restricted purchases, were automatically disapproved when requesting a Free Listing Account. Last week, however, Google announced a change: it will now mark such listings as active but warned that they "have limited visibility on Google."
🛈 What You Need To Know
📌 A user login requirement is pretty self-explanatory: you need to have registered credentials to access product data.
📌 Restricted Purchases refers to the website stores that limit sales to customers using criteria such as location, device type, customer information provided, or some other exclusive customer vetting process.
📌Until now, Google has taken the stance that such fields should be optional, and website content should be consistent and available to visitors in all locations.
💡 Top Tips:
✅ If your website has a user login requirement or restricted purchases and has previously been disapproved for a Merchant Account, now is the time to submit another request.
Sources: Google Policy update: Login required and Restricted purchase
📢 Google Is Testing Increasing Local Business Service Ads
Last week, there was chatter among the SEO community about whether Google is now showing three local services ads on mobile, instead of two. This was first spotted by a Twitter user Len Raleigh and brought to the attention of the Executive Editor of Search Engine Roundtable, who was able to replicate the test, both on desktop and mobile in Google Search.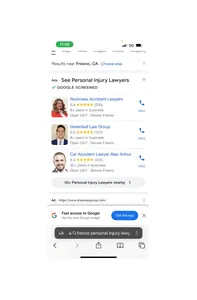 🛈 What You Need To Know
📌 The ads platform confirmed in a tweet that this was an experiment and that they are running a small test to see the value to consumers and providers of providing one additional service provider in the Local Services Ad unit.
📌The Google ads liaison went on to state that that their aim is to help consumers discover and book services from trusted providers with confidence.
Sources: Tweet of Digital Marketing Specialist Len Raleigh , Official tweet from Google's ads product liaison
3 Analytics News
📢 Google Is Pushing Business Profile Verification Via A Video Call
Companies that wish to create a Google My Business profile previously had the option of doing this via a phone call, via email, via postcard by mail. Now Google is pushing towards profile verification by a video call, during which the operator works through a checklist of requirements,
🛈 What You Need To Know
📌 Proper verification is important because this will confirm to Google Search Console that you own a specific website.

📌 The checklist of requirements will include:

Details about you and your business.

Your original business permanent account number card in the USA or VAT number in the UK. (This document varies according to your location).

The owner/legal affiliate of the business to be present at the place of business.

📌 If your business address can't be validated, the agent might request for proof of address and proof of ownership.

📌 For the moment, this system is being rolled out and many are still seeing the other options for Business Profile Verification.
💡 Top Tips:
✅ Google hasn't implemented a new system to report spammers that create "fake" profiles using PO box addresses, or companies offering virtual office services and to call themselves "local" and get to the top of the rankings using ads.
✅ Until then, if you are aware of a company that is offering "local" services, yet is operating from a virtual office and has a staffed office, say, hundreds of kilometers away, you can report this as spam, using this form .
Sources: Google Verify your site ownership Guideline
📢 GA4 Now Shows Performance Max and Smart Shopping Data
Google Analytics 4, the next-gen event-based analytics tool, is now showing performance data from Performance Max and Smart Shopping campaigns.
A GA4 Analyst expert, Charles Farina , posted this useful screenshot on LinkedIn.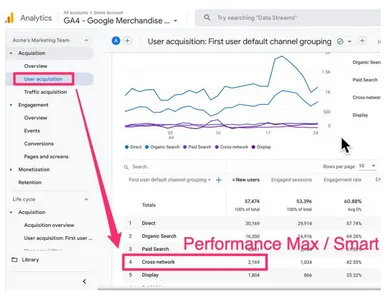 🛈 What You Need To Know
📌 Advertisers now have the ability to view and report on PMax and Smart Shopping (SS) campaigns under a feature known as the Cross Network channel grouping.
📌To view PMax and SS campaigns, navigate to Acquisition > Traffic acquisition report, you'll see that the data is organized by the Session default channel grouping dimension. (Click + to choose a secondary dimension.) Performance Max and Smart Shopping campaigns are under the Cross Network.
💡Top Tips:
✅ Switching over to GA4 and its new methods of reporting ineed to be set carefully so as not to lose important data.
✅ There are lots of useful posts from users sharing information that will make the switch much easier.
Sources: Google GA4 Default channel grouping Guideline
📢 YouTube Has Launched A 'Creator Safety Center' to Help Creators Manage Unwanted Attention
YouTube has launched a new platform to help creators in all aspects of their work, particularly with safety in mind. The announcement comes as part of a broader initiative from YouTube that seeks to drive ongoing progress for underrepresented communities, and opportunities for minority creators.
Most of the information is not new; but it's just been coordinated into a centralized space, focusing on creators and specifically to help address key issues.
🛈 What You Need To Know
📌 YouTube explained that in a recent survey of creators, 95% had experienced unwanted behavior across multiple social platforms, while only 50% said they had access to resources or the necessary support to handle these interactions.
📌 Acting on this information, YouTube worked with a range of third-party experts, including ConnectSafely, The Family Online Safety Institute and the National Cybersecurity Alliance, to put together its new, in-depth collection of tips to help creators stay safe.
📌 The new Creator Safety Center includes pointers on how to manage such problems, whilst also growing creator channels.
📌It has a special section on how to deal with bullying, trolling, account hijacking and so on.
💡Top Tips:
✅ You can access the Creator Safety Center here.
✅ If you are a creator on any platform, this is a great resource for advice.
✅ If you know anyone who is a YouTube creator, perhaps they might appreciate you sending them this link.
Source: YouTube Insider Blog Post
📢 YouTube Has Created A New Option to Cut Your Long Videos into Shorts
YouTube's Shorts feature has been around for some time now, and 1.5 billion YouTube users now watch Shorts every month. To encourage creators to use this feature, it is rolling out a new Shorts editing option on iOS and Android devices. This will let creators convert segments of their longer videos into minute-long Shorts variations.
🛈 What You Need To Know
📌The new 'Edit into a Short' option will let creators choose a section of their longer regular video uploads to then trim them into shorter versions.
📌The Shorts app has all the usual editing tools, including text, timeline editor, filters, and so on.
📌Shorts created using the app way will link back to the original longer videos, so viewers can easily watch more.
📌Driving traffic to creator main channels is key since shorts don't make ad revenue and channels are how to build communities.
📌Only the original creator can transform long-form videos into Shorts in this tool.
💡Top Tips:
✅ Content creators of the massive short-format social platform TikTok reply on its Creator Fund.
✅ A YouTube channel is more profitable and scalable, although users don't have a dedicated "for you" feed.
✅ In contrast to the many warnings lately about the security of TikTok data, YouTube is making strides in terms of transparency and supporting its users, so it's quite an easy choice to make over its main rival.
Source: YouTube Help
📢 Snapchat Launched A 'Sounds Creator Fund' to Promote Unsigned Musicians
Snapchat's looking to provide more support to an expanded scope of creators via a new 'Sounds Creator Fund' which will help emerging independent artists to gain distribution and recognition on the platform, via audio uploads that users can then add to their Snaps.
Funding will be based on usage, with monthly grants of up to $100,000 on offer to the top Sounds creators distributing their music in the app. Popular Sounds may also be included in Snapchat Lenses, or in Spotlight, providing even greater audience reach.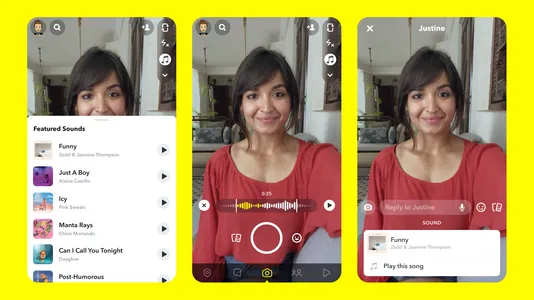 🛈 What You Need To Know
📌 Snapchat first launched "Sounds" in 2020; it enables users to add song clips into their Snaps.
📌 Since then, the audio tracks available have increased, via licensing deals with a variety of record labels.
📌 Independent artists have also been able to upload their music via DistroKid, providing another avenue for promotion.
📌 The Sounds Fund will help to build upon this. Meta launched a similar program last year, and YouTube recently did the same.
💡Top Tips:
✅ As always, careful consideration is needed when working towards a cash payouts goal. Snapchat's recent results perhaps do not favor a cash grant business model.
Source: Snapchat Support
5. Tech News
📢 Chrome is Pushing Back Phasing Out Third-Party Cookies To 2024
Google published a blog post last week explaining how it plans to expand the testing phase (now underway) to launch in Q3 2023 and to depreciate cookies in the second half of 2024.
🔁 A quick recap:
These changes are partly voluntary and partly necessary since, across the globe, regulators are starting to target big tech companies for allegedly breaking monopoly laws and personal data privacy laws.
Third-party tracking cookies are lines of code placed on your computer, supposedly with your implicit content, when you visit another (a second-party) website. These cookies track your online activity and send it back to the third party who created the cookie, perhaps an advertiser.
These third-party websites are then able to use the data collected by the cookie to profile you based on your online activity and serve you adverts based on your website activity or that of people with similar profiles.
Google Ads currently relies heavily on third party cookies and want to make changes carefully, since they risk losing a yearly revenue of $200 billion. Safari and Firefox have already stopped using third-party cookies.
🛈 What You Need to Know
📌 First-party cookies are not going to be phased out. Not by Google and not by you on your own websites, or those you manage for others. These cookies show a user' activity on your site, such as how often they visit. They also collect other basic information about them, which can be used to create a basic marketing strategy.
📌 You will still be able to use Google Ads, powered by Google Chrome's first-party cookies, and it's proposed replacement: the Privacy Sandbox initiative.
📌 Right now, the best thing to do as a marketer can probably do is to continue to stay up-to-date with the news related to third-party cookies and other data privacy moves that could impact their business.
💡 Top Tips:
✅ If you want to learn more about Google, read articles from competitor platforms, Yahoo and Bing, and vice versa, to get a more rounded view of things.
✅ Customer loyalty has never been so important. Perhaps now is the perfect moment to implement ways to consolidate this.
✅ If you have serious concerns on whether your site is compliant with data privacy laws, seek legal assistance. It's okay to ask in forums, but you need to have your own back.
📢 Google, Like Amazon, May Allow Police To See Your Video (Without a Warrant)
Google and Amazon can allow police to view your home's smart footage and get this data without a warrant if police claim there's been an emergency
🔁 A quick recap:
The Ring video-doorbell from Amazon has been around since 2013, initially as a motion sensor. Since then The Ring has expanded to encompass surveillance cameras and its devices how have features such as Wi-Fi, cloud recording and speakers.
In the same vein, Google Nest comprises a line of smart home products including smart speakers, smart displays, streaming devices, thermostats, smoke detectors, routers and security systems including smart doorbells, cameras and smart locks.
🛈 What You Need to Know
📌 Google and Amazon, and other smart surveillance system companies, would technically be breaking the law in the US if they didn't hand over information when presented with a warrant, subpoena, or similar court order.
📌 Google and Amazon have caveats stating that they will make exceptions if law enforcement submits a request for data in an emergency situation.
📌 Despite this, competitor companies, including Apple, have all promised not to do this.
📌 This month, Amazon disclosed that it had already fulfilled 11 such requests so far in 2022. Google clarified that it had never given data during an emergency situation.
💡Top Tips:
✅ If you are in the process of choosing an I-O-T smart home system, do your research.
✅ If you already have a smart doorbell or security system, be very careful of people claiming to be from the service provider and requesting your data.
✅ We have no information on the "emergency situations" for which Amazon granted law enforcement access to ring footage. These could be hostage situations, suicide prevention or missing persons, and so on. Without this data, it's not easy to form an opinion either way.
Source: The Verge
Hey, so that's the end of this Week's Roundup. It has been especially interesting this week, so let's see what happens next week!
I do these roundups to put together the top content so that you can decide whether to take action from it. I really hope you found it useful and interesting.