The amount of social media channels keeps growing. Benefits, such as wider reach and possibilities, are obvious. However, it's not all plain sailing with multiple digital touch points. How can social media presence be managed without shifting between tools and accounts? While information is dispersed, how to make analytics more centralized? The answer to these questions is Metricool.
In this review, we will explore the best all-in-one social media management and analytics tool on the market, called Metricool. Whether you are a social media manager, marketing executive, agency owner or influencer, this tool will save your future days with content planning and publishing as well as analyzing and managing your social media posts and ads.
After reading this article, you'll find out:
What is Metricool?
Metricool is a complete social media management and analytics tool integrated with all today's popular social media channels and ad platforms. Metricool enables you to schedule, manage, and analyze your social media undertakings, including organic posts and paid advertisements based on which social media metrics, ad performance, and website activity are shown.
Metricool is available both for free and at premium level and the tool can be used on both desktop and mobile devices, thanks to its browser and app version.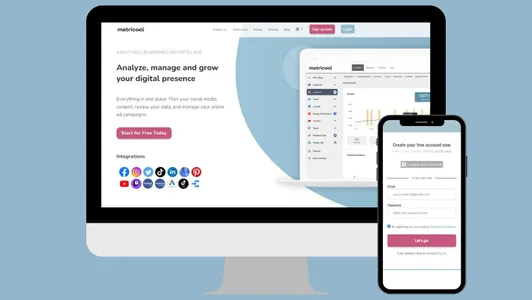 The main benefit of this one-stop platform is that you can easily manage and analyze all your channels without having to spend an awful lot of time, money, and effort on it.
From one dashboard, you can run all your social media accounts on Twitter, LinkedIn, Facebook, Instagram, Twitch, TikTok, and Youtube. On the very same platform, you can also plan, publish and manage Facebook and TikTok ads. Metricool gives you the ability to analyze both organic and paid content in the same place, making it an even more not-to-miss platform.
Thanks to a variety of integrations, such as Google Ads and Looker Studio, Metricool allows you to advertise also on Google and have a wider coverage of advertisement and website data. You can also integrate your Google Business Profile account with Metricool to use all the possible features.
Metricool's productivity-enhancing abilities have already been discovered by thousands of businesses worldwide, and after reading this review, maybe you'll become one of them too!
Key Metricool Features
Metricool has everything covered, whether it's scheduling content, monitoring social networks, or analyzing advertising campaigns and organic posts. Although Metricool has heaps of features, the platform is still simple to use for social media management tool beginners and for those who identify as not that tech-savvy.
Next, let's examine all the existing Metricool features more closely.
Social Media Analytics
Without measuring results, it is difficult or even impossible to develop your social media strategy. Compared with people, data doesn't include guesswork, it holds facts. Hence, to make objective and fact-based decisions, we need to make sense of the data on which social media produces a big piece.
By analyzing social media data, companies can confirm whether the current social media strategy and the content strategy derived from it are working. In parallel with the strategic side, the metrics can effectively be used to make improvements and decisions regarding the operative doing - budget allocation, utilized channels, and social media posts.
For each social media platform, you can select the time period from which you want to view the metrics. You can compare the selected time period, such as the current month or last week, to the previous period. Comparing the most recent month with the previous month, for example, gives you insight into the metrics' development.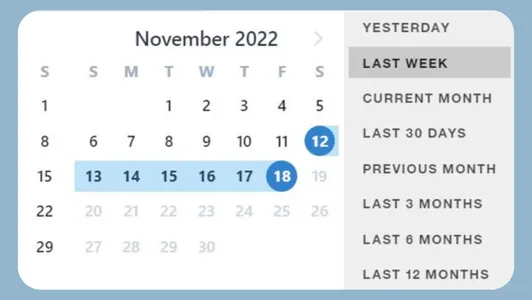 Social media analytics should be reviewed regularly, preferably even on a weekly basis. Social media is dynamic in nature and the speed of change is staggering. On that score, as possible problems appear relatively quickly, it'd be important to be able to deal with them immediately and not a month later.
In addition to storing the data, Metricool allows the user to download analytics data as a CSV file for later viewing or editing.
In Metricool, all the graphics can be customized to only display the development of certain channels or metrics, for instance, by clicking 'off' on certain channels, as shown in the example below.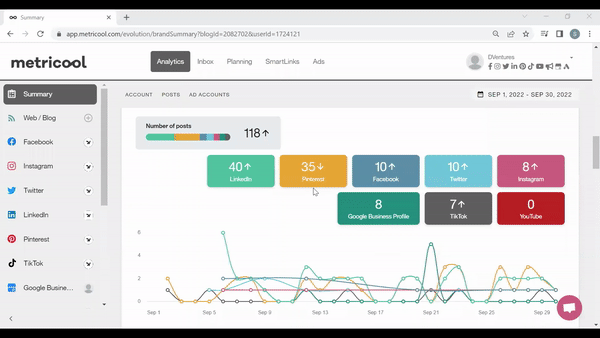 Connecting your social media accounts with Metricool allows you to utilize social media analytics across a variety of platforms, which we will cover in detail next.

If you use the free version, you will be able to analyze the statistics of either the Facebook page or the group. In this example, we will go through the Facebook business page performance metrics derived from the selected period.
PAGE OVERVIEW : total page likes, new page likes, total followers, daily likes, total number of posts, daily posts, likes per post, posts per week, page impressions (total number of page views, including both organic and paid content), page visits (the number of people that visited the page), lost and gained likes

CLICKS : page visits, clicks on a call-to-action button (can be specified) and website link

POSTS : engagement (number of interactions per every 1000 people reached), interactions (reactions to the posts, comments, shares, and clicks), average reach per post (average number of people reached with a post), impressions of posts (the number of times your posts have been viewed)
You can also see if the posts' links, images, or videos have been interacted with. Additionally, you will be able to see what proportion of impressions are organic versus paid.
Furthermore, you can find more detailed information about the posts. It's possible to search for a specific post to check its metrics or scroll all of the posts to have a complete overview.
COMPETITORS : You can add a competitor to the analytics whose posting data (likes, reactions, engagement, shares, comments) you want to view. The free plan limits you to five competitors, whereas the paid plan permits you to view up to 100 competitors.

Following our review of social media giants' metrics, let's now examine the statistics of an Instagram account. These metrics are available to all Metricool users, regardless of using the paid or free version.
COMMUNITY : total followers and following, new followers, new Followings, number of posts, posts per week.

ACCOUNT : impressions (amount of views of profile and posts), average reach per day (average number of people reached by organic and paid content), profile views, website clicks.

POSTS : engagement (number of interactions per every 1000 people reached), interactions (likes, comments, saved posts), average reach per post (average number of people reached with the post), impressions (total number of views of organic posts).
The Posts section also contains a graph or table showing the types of posts, i.e. whether the posts were videos, images, or carousels. You will also be able to see the proportion of impressions for organic and paid content.
At the bottom of the Posts section, you can find more detailed information about each post. For a complete overview, scroll all the posts or search for a specific post to check its metrics, such as impressions, reach, likes, savings, comments, organic and paid interactions.
The Posts section also includes a hashtag list with the number of impressions, posts likes, and comments for posts containing a specific hashtag. It's hard to determine the relevance of a hashtag if it has only been used in one post. To ease the separation of the wheat from the chaff, change your viewing interval to a larger time period, so you can see the averages of the hashtag-related metrics. A good hashtag increases impressions, so you can check, for example, which hashtags bring visibility to your posts.
REELS : engagement, interactions (likes, comments, saved Reels), average reach per Reel, video views, number of Reels.
In the Reels section, there's also more specific information about each Reel. Information includes video views, reach, likes, organic savings, organic comments, organic interactions, paid interactions, and engagement.
STORIES : impressions (number of times stories are viewed), average reach per Story, number of Stories.
In the Stories section, you can have a look at in-detail information about each Story. These story-specific metrics include impressions, organic reach, paid reach, organic replies, organic taps back, organic taps forward, organic exits.
COMPETITORS : You can add a maximum of 5 competitors to be monitored in the free version and up to 100 competitors in the paid versions. Monitored competitors must be business accounts.

If your brand has not yet created a TikTok account, we strongly advise you to give it a try. At the moment, TikTok is the fastest-growing social platform in many countries. Its popularity can be attributed to its short, engaging videos with a high engagement rate and potential for broad reach.
With Metricool, you can view the following TikTok business account metrics:
COMMUNITY : total followers, number of videos, new followers.

DEMOGRAPHICS : followers' gender and country.

ACCOUNT : profile views, number of videos.

VIDEOS : engagement, interactions (likes, comments, shares), average reach per post, video views, videos.
The Videos section also provides detailed information about each posted video. For a complete overview, scroll all the posts or search for a specific post to check its metrics, such as the date of publication, number of views, likes, comments and shares, total reach of the video and the duration.

Twitter is a social media platform for communication that uses short messages known as tweets. Therefore, Twitter is an excellent platform for audience interaction. Let's take a look at the numbers next.
COMMUNITY : total followers, following, 2nd level data (number of followers your followers have), number of tweets, gained and lost followers, mentions.

POSTS : engagement (number of interactions per 1000 impressions), impressions, interactions (likes, retweets, replies, quotes, profile clicks, link clicks). You're also able to check individual tweet metrics: impressions, likes, retweets, replies, link clicks, profile clicks, engagement and video views.

COMPETITORS : You can monitor up to 5 competitors in the free version and up to 100 competitors in the paid versions.

COMMUNITY MANAGEMENT : Community management opens a new tab where you can add the competitor whose data you want to compare more closely with your own. These metrics are: published tweets, followers, followings, competitor's followers and followings, interactions, best friends (most frequent mentioners and repliers).

LinkedIn is a professional social network site that can be used for a number of purposes, including networking, recruiting, lead generation, relationship building, and thought leadership authorization. LinkedIn integration is available only in the paid versions.
COMMUNITY : followers, new followers, paid followers, impressions.

POSTS: engagement (number of interactions per every 1000 people reached), interactions (reactions, comments, clicks, posts), impressions, posts. Individual LinkedIn post metrics include reactions, comments, clicks, impressions, engagement, video views, viewers, time watched, and average time watched.

STORIES: engagement, interactions (clicks), impressions, stories. Story-specific information shows the number of impressions, clicks, engagement and time watched.

YouTube is a video-sharing platform owned by Google. With YouTube, users can view and share videos and Shorts. With YouTube, businesses can reach a broad audience using eye-catching visual assets and storytelling.
COMMUNITY : total, gained and lost followers, video views, revenue, videos.

DEMOGRAPHICS : gender, age, viewers by country, traffic source.

PUBLISHED VIDEOS : video views, likes, dislikes, comments, videos.

VIEWED VIDEOS : video views, likes, dislikes, comments.

COMPETITORS : Add up to 10 competitors for monitoring. Note, that YouTube's competitor research is available only in paid versions of Metricool.

Twitch is a free live-streaming platform founded in 2011. The original idea was to make it possible to stream video games to the public, but today streams cover many other topics as well. Twitch can be a way for brands to showcase a new product or maybe give the audience a peek at the company's everyday life.
With Metricool, you can pore over the following metrics:
COMMUNITY : total followers, total subscribers, number of videos, balance of followers.

SUBSCRIPTIONS : subscription types (Tier 1, 2, 3 and total gifts) and list of subscribers.

STREAMS : views, duration, videos. At the end of the section there is also a table of individual streams, showing the release date, duration and number of impressions. Additionally, Metricool presents a table of individual clips taken from streams by viewers.

COMPETITORS : You can monitor up to 5 competitors in the free version and up to 100 competitors in the paid versions.

Google Business Profile can be characterized as a company's general business card that includes contact information, location or service area, industry, services, images, logo, reviews, comments, star ratings, and frequently asked questions.
Metricool shows you the following metrics:
LOCATION : direct, indirect, chain and total searches, Google Maps organic views, Google Search organic views and total views, website, phone, and direction clicks.

REVIEWS : star rating (average rating), total number of reviews. Information about each review: user, message, date, star rating, and the reply status.

PHOTOS AND VIDEOS : views, number of photos and videos, list of photos and videos.

POSTS : views,number of posts, list of posts.
How to Know What Social Media Metrics to Look at?
In the jungle of social media metrics, it can be difficult to know which metrics are most important to your business. Let's take a closer look at how you can identify the central metrics.
Set your goals
What is the higher-level goal for your business? Do you want to increase brand awareness or boost leads? Setting a clear goal will help determine which metrics to monitor to ensure you're heading in the right direction.
Define the strategy
What do you want your audience to feel or experience? What is the kind of content that supports the goals? The advertiser should know the audience's buyer journey so that the right types of content support the right stages.
Succeeding in social media requires a strategy, even for small businesses. The strategy may be an overarching social media marketing strategy or a more practical channel-specific content strategy. In either case, your business must have a clear goal on which to base the strategy.
Know what metrics to look for
Once the goal is set and the winning social media strategy is created, it's time to dwell on social media metrics.
If the foremost objective of a social media channel is to build brand awareness, reach, impressions and profile views are some of the essential parameters to consider. If, on the other hand, the goal is to strengthen brand loyalty, it is important to examine the amount of interactions and engagement rate.
The results should be compared with the previous period. This way you can identify which actions were fruitful if the metrics suddenly enhanced.
With the help of the right metrics, time and effort are allocated to the right things, increasing marketing efficiency.
Website Analytics
Let's break it down, data is the THING in business. And your website is no exception. Metricool allows you check a variety of website measures, such as:
WEBSITE : total page views, visits (the number of times visitors visited the site), visitors (the number of people that visited the website), blog posts, comments, daily metrics.

LOCATION : visitor countries.

TRAFFIC : page views (which pages have been viewed), traffic source (where the traffic came from)
Metricool is a great place to start looking at website analytics, especially for newbies. However, to get a more accurate and comprehensive picture, you should also enable Google Analytics.
Using Google Analytics, you'll get more in-depth data about traffic, since the source of most visitors may not be the source of the biggest cash flows. With the help of Google Analytics, it is possible to identify which traffic sources result in the highest purchase conversion rates and which ones have the highest bounce rates - the proportion of website sessions that were not deemed as engaging.
These numbers will help you determine which channels to invest in more heavily.
Content Planner
It is critical to tailor the content of the posts to the channel's nature and overall atmosphere. For example, posts on Linkedin can be more topic-oriented and longer in text, while Instagram is the realm of hashtags, beautiful pictures, and videos.
However, social media is a fun place as it advocates experimenting. Experiment with different contents, such as adding more images, speeding up the posting phase, and adjusting the length of texts. What works for one brand may not work for another, and vice versa. To make the most out of social media, we recommend testing and analyzing its results across all channels!
In Metricool, you have two ways to schedule and publish posts: Calendar and Autolists. Calendar is the view where you can choose at which time you want to post. The calendar shows both the best and worst times to post content on Twitter, Instagram, Facebook and TikTok based on your own audience. The stronger the color, the better the time for posting.
You can create a post for a specific time just by clicking on the time or hit "Create a New Post".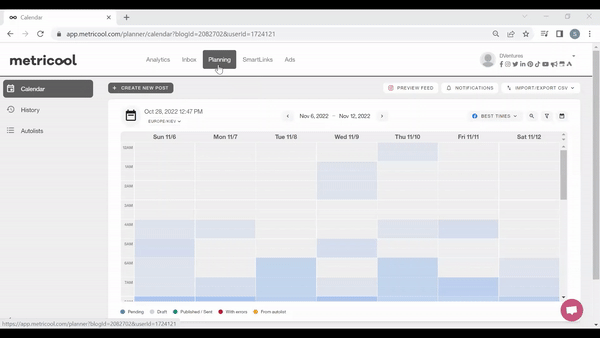 How to create a new post with Calendar:
Choose which channel you want to post on (Twitter, Facebook, Instagram Story, Reel, Feed, LinkedIn, Google My Business photo or post, Pinterest, TikTok, Youtube video or Short)
Add creatives to the post (If you use Canva to create visual materials, you can share the content directly to Metricool).
Write a description text (If you choose multiple social media channels for the same post, the copy you create will be the same on all platforms).
Tag a location if it's supported by the channel.
Set presets per each channel.
Check the preview of the post.
Check the Remember Section (Make sure the channels you want to post to support the various post features).
Choose the time to post/press publish now.
Finally, click save.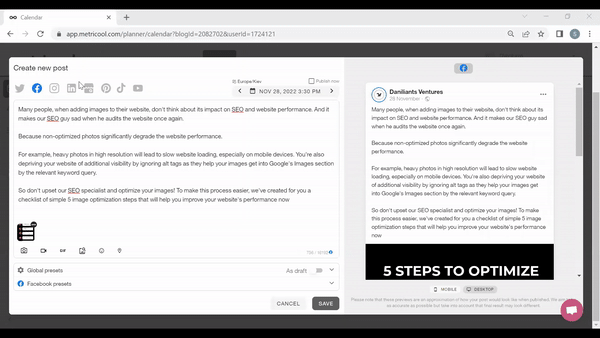 In the premium version, Metricool allows you to search for hashtags on Instagram and Tiktok . Enter a keyword and the platform will provide you with hashtag suggestions as well as the volume for those hashtags - the amount of competition.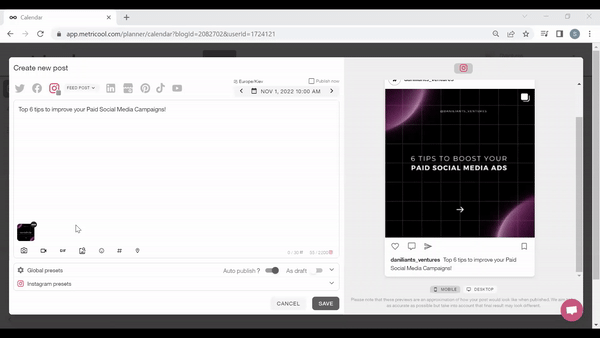 Content autolists are lists of posts that are scheduled and automatically posted on social media. The best way to use autolists is for content that's not trend-based and can be shared year-round. In other words, autolists are suitable for publishing evergreen content.
Here's how you create an autolist:
Click "Planning" on the top menu.
Select "Autolists".
Click "New Autolist".
Name the new autolist.
Set the global preset to "Repeat" if you want every published post in the list to be republished after "one round" of posting.
Click on URL Shortener if you want Metricool to shorten the links of all posts.
Set channel-specific presets.
Choose the channels where you want to publish the car list posts.
Select the time you want your post to be published and click "Add" to select multiple days and times.
Add content to the autolist by using RSS feeds, CSV files or manual input.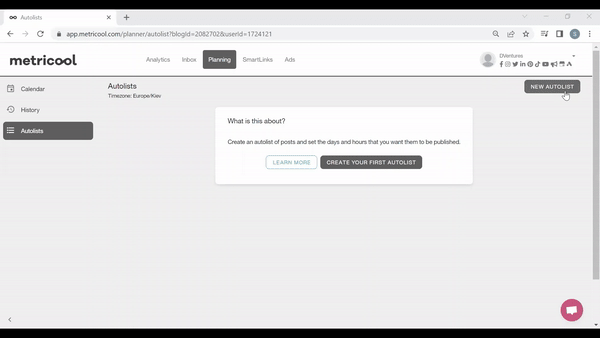 Competitor Research
Compare and contrast your competitors' social media strategies on Instagram, Facebook, Twitter, Twitch, and YouTube. Here's a table of the key competitors' measures.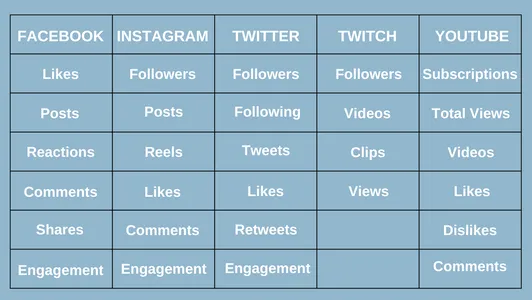 In the free version, you can add up to 5 competitors for Facebook, Instagram, Twitter and Twitch, and the adding is done using a username (@username).
The paid version allows you to add up to 100 competitors on Facebook, Instagram, Twitter and Twitch. For Youtube, Metricool Premium allows you to analyze a maximum of 10 competitors. Youtube competitors are entered with a URL (URL has to include channel ID).
A few things should be considered when adding competitors. For instance, the competitor should be posting regularly so it's possible to observe comparable figures. With competitor tracking, you can easily see what type of content is working in your industry. Thus, best practices can easily be benchmarked.
Inbox Management
In a multichannel business world, it is vital to streamline digital customer service. Your inboxes across the Internet are always at your fingertips with Metricool as it lets you reply to private messages and comments on Facebook, Instagram, Twitter, and Google Business Profile. With one place to do all the tracking, you can easily achieve the much desired "0 unread messages" status.
DM and comment management is especially convenient for those who have multiple message-filled inboxes to track. With Metricool, it's easier to keep all your messages organized and up to the minute.
Hashtag Tracker
Metricool offers its users a really neat feature - the Hashtag tracker with the ability to track hashtags across Twitter and Instagram in real-time.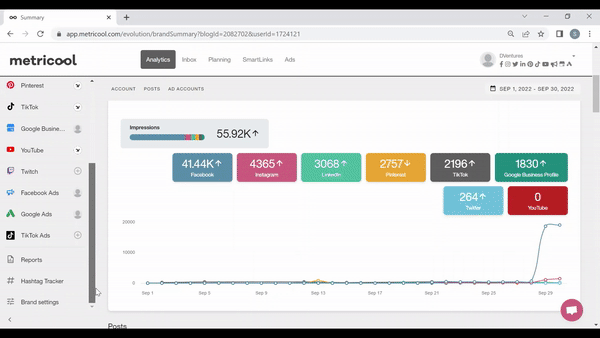 With a 10 € payment you can monitor a particular hashtag for 24 hours, which allows you to view data, such as the number of posts that have used the hashtag and the content that contains the hashtag. As a bonus, Metricool offers 1 free day if you have bought 4 days of hashtag tracking.
SmartLink
Metricool's SmartLink tool lets you add more than one link to your social media bios.
Smartlink is a fully customizable landing page that includes buttons with URLs. In addition, the user can add texts and images to different sections, and adjust the color theme of the page.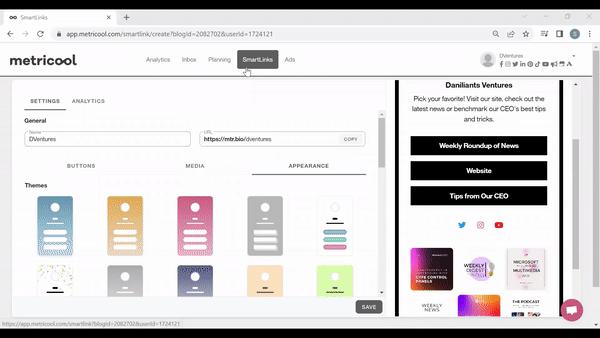 While Smartlink is a useful tool to enrich your social media bio, it also comes with pitfalls.
When a user clicks a smartlink to enter the website, analytics interprets that the user comes from Metricool's website. Given this, analytics is unable to identify the original social media channel the user came from. As a result, the company cannot determine which social media channel is most effective for sales, for example, since it lacks precise data on where the majority of potential customers arrive from.
In other words, you have to weigh the pros and cons - between the accuracy of analytics and the all-inclusive information in the social media bio.
Google, Facebook and Tiktok Ads Support

You can create Google and Facebook ads with Metricool and view analytics for your paid campaigns on Google, Facebook, and Tiktok to see which ads are working best.
With any advertising channel, you should begin by clarifying what your campaign's KPIs are. It is relevant to consider the KPIs based on the campaign's objective, whether it is to increase sales or revenue at the end of the funnel or to raise brand awareness at the beginning.
Next, we'll look at the advertising options per each platform in Metricool.
Google Ads
With the Google Ads integration, you can easily create campaigns. Metricool supports Search and Display campaigns, so if you want to make use of these cornerstones of Google Ads, you can do it directly from Metricool Here are the monitorable metrics:
ACCOUNT : impressions (the number of times the campaigns have been displayed), the budget spent on Google Ads, clicks, conversions, CPM (cost per 1000 impressions), CPC (cost per click), CTR (click through rate), the spent on the campaigns created in the period under review, conversion value, ROAS (revenue on ads spent).

CAMPAIGNS : Metricool shows detailed metrics per each campaign: start date, impressions, clicks, conversions, CPM, CPC, CTR, conversion value, ROAS, spent.

KEYWORDS : From the list of keywords, one can check: impressions per each keyword, clicks on each keyword, conversions obtained with each keyword, CPM, CPC, CTR, spent.
Facebook Ads
In terms of monthly active users, Facebook still remains the leading platform. Thanks to its large user base and precise targeting possibilities, Facebook offers great potential for advertisers. Metricool lets you specify either a traffic or a conversion objective for a Facebook ad campaign and it shows you the following measures:
ACCOUNT : impressions (the number of times the ads have been seen), reach (the number of people who have seen the ad), spent, clicks, CPM, CPC, CTR, conversion value, ROAS.

CAMPAIGNS : Detailed metrics are provided for each campaign: time of update, impressions, reach, clicks, conversions, results, CPM, CPC, CTR, ROAS, conversion value, spent.
TikTok Ads
Short video ads are becoming increasingly popular in advertising placement, as they are often more engaging. Your TikTok ads will show up during moments that are most meaningful for your audience - when they're watching their favorite content creators' videos or searching for new interesting ones via For You page.
Although you can't create TikTok Ads from Metricool, you can connect your account to Metricool to keep an eye on the analytics for ads.
ACCOUNT : impressions, cost (total cost of all the campaigns), clicks, conversions, CPM, CPC, CTR.

CAMPAIGNS : The list of each TikTok campaign consists of these metrics: time of update, impressions, clicks, conversions, CPM, CPC, CTR, cost.
Custom Reports
You can gather all the desired data in neat reports , allowing you to have an overview of what's working and what isn't. Instead of having to separately bring analytics from each social media channel to one place, with Metricool you can easily download reports that cover all the integrated channels.
For the report, choose a template, the data of the desired channels and advertising platforms, your own logo and visual appearance. The creation and sending of the report can be automated, in which case you'll have an updated report in your hands whenever you want.
The report can be downloaded either as a PDF or in Powerpoint format.
Google Looker Studio Integration
Metricool and Looker Studio work seamlessly together, as data from social networks can be imported into Looker Studio (formerly Data Studio) .

Thus, you can create reports that show the entire range of information, as Looker Studio reports can include data from Metricool in addition to Google Analytics and Search Console.
Looker Studio Connector is available in the Team 15 paid version, but the integration can be used for up to 15 different brands, which makes the feature very attractive for agencies, for example.
Here you can check the Template of Looker Dashboard from Metricool .
Google Chrome Extension
Metricool also has a Chrome extension that allows you to share material from the Internet directly to Twitter, Facebook, Instagram, LinkedIn and Google Business Profile.
The best ideas usually pop into our heads at the most unexpected times. If you come across, let's say, an article worth publishing in the browser, you can use the extension to quickly share the article to Metricool, curate the post to your preference, schedule it or post it immediately to the channels you want.
Main Metricool Pros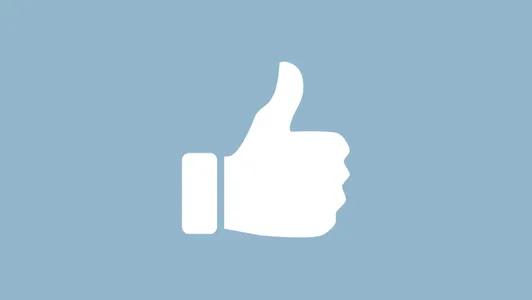 In our opinion (shared with many other digital marketing doers), Metricool is one of the top social media management and analytics tools because:
1. Free version
The free version is available to everyone and the price of the paid versions are also well-founded. Often the free version is very limited in features. Nevertheless, this is not the case with Metricool, since the content producer or marketer will be successful even with the free plan.
The paid versions also have something for everyone: More expensive and feature-rich versions for larger companies and more affordable ones for smaller businesses.
2. Rich features and integrations
Multi-channel creates time challenges for social media management, as jumping between different accounts, manually digging post ideas from the content calendar, and the dispersion of analytics create so-called social media bottlenecks.
With Metricool, these challenges can be defeated as businesses can use one tool to analyze their social media and ad metrics, interact with the customers, and generate detailed reports on their social media postings.
3. Easy to use even for beginners
If you are a freelancer starting your career or an already experienced social media marketer, Metricool is suitable for both. The user interface is very intuitive and straightforward. When you use Metricool, you don't have to constantly think to yourself "how does this even work".
Make better content and smarter decisions with Metricool's simple dashboard interface!
Main Metricool Cons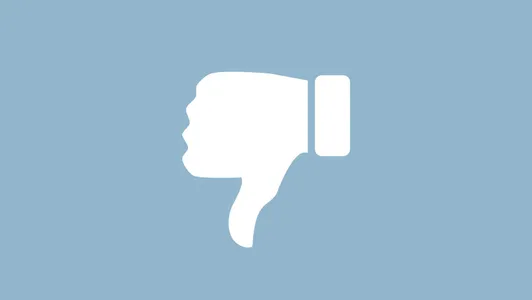 No bouquets without brickbats, right? Despite the positive aspects of Metricool, there are also some downsides.
1. Matters related to measurement
Some of Metricool's metrics do not measure the "net value". For example, the "New Followers" metric tracks the amount of new followers in such a way that if a new follower unfollows and later starts following the account again in the selected period of time, the number of new followers is still counted as 2.
However, the measurement criteria are mentioned in Metricool.
2. Limited historical data
Historical data is used to track the performance of an organization, measure development, and forecast trends.
Historical data is only available for the last two months in all versions of Metricool. This means that once you deploy Metricool and integrate social media channels into the tool, Metricool only retrieves data from the previous 2 months. If a user needs access to metrics for a longer period of time, they must contact Metricool.
3. The free version lacks a few important features
There's no LinkedIn account integration in the free version, nor the possibility to pull reports. Although you can get by without them, these are quite essential features in social media marketing.
As a result, users are attracted to purchase the paid version, the cheapest of which (€10/mo with annual payment) allows you to use the aforementioned features.

In this section, we'll pit Metricool against 5 of its top competitors and see how it measures up regarding features, pricing, and more.
(-) More expensive and no free plan
(+) Unlimited amount of posts per month in each version
(+) Slack & Teams integration
(-) Clearly more expensive (more suitable for already well-established companies)
(+) Bot builder
(+) Versatile social media listening tool
(-) The free version only gives you access to a total of 3 social media channels
(+) Even more affordable than Metricool, for just 5 dollars a month you can access all social media channels, Google Business Profile and much more
(-) More expensive
(+) Offers a really comprehensive spectrum of features
(+/-) Better for bigger businesses/more demanding needs
(-) No free version, the cheapest version is $18/mo where you can only add one brand's social media accounts
(+) Integrations with all major social media channels
(+) All versions offer historical data for a longer period of time (from 3 months to 1 year)
Pricing
Metricool is free for life, but certain premium features are only available on paid plans.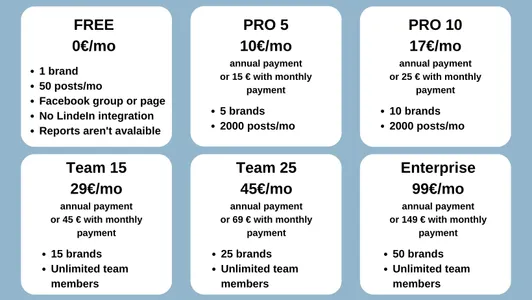 Free plan
The free version is great for a freelancer or a few-man content creation team. The free version includes all the other main features, except for LinkedIn integration, reports, customizable templates, the possibility to download data as a CSV file, and a hashtag search tool when posting.
Posts can be published 50 times per month and for social media channels you can view a maximum of 5 competitors (except YouTube, where competitor monitoring is only available in paid versions) The data storage time is also limited to 3 months. If a user wishes to keep metrics for a longer time, they must save the metrics, for example, as a CSV file.
Pro 5
The cheapest of the paid versions offers all the necessary features at a really good price, as this version includes LinkedIn integration, reports, multiple Smartlinks, 2000 posts per month and monitoring of up to 100 competitors' social media accounts (only ten on YouTube).
Five brands can be added to the same tool, so planning and producing content can be done conveniently for customers as well. No restrictions with data storage time.
Pro 10
With this version uplift, you can connect 10 brands to your account. There are no other significant differences compared to the previous one.
Team 15
In light of the name, the whole team has access to this version, since several users can be created for the same account. Other improvements are, for example, Looker Studio integration, customizable templates and API access.
You can also link up to 15 brands to your account.
Team 25
The bigger the team, the better this version suits your company. Add as many team members as you want and up to 25 companies to your account. As in the previous version, up to 5,000 posts can be published per month.
Enterprise
This is the ultimate Metricool version. Publish up to 10,000 posts per month, and get your hands on the white label feature. The account can contain up to 50 brands.
Conclusion
In summary, Metricool offers a great array of features to assist businesses in ramping up the effectiveness of social media marketing.
In our view, Metricool is one of the must-have tools for any business that wants to ensure maximum social media footprint. It's intuitive, affordable and ideal tool for businesses looking to expand their presence online, thanks to its ability to track and measure social media activities.
We warmly recommend trying it!