News of the week:
Welcome back! This time we've got you covered with bite-sized news regarding SEO, PPC, analytics, social media, and technology.
This week's top news are:
1. SEO News
📢 Google Adds "About This Result" Panels To Europe
In honor of UNESCO Global Media and Information Literacy Week and to promote the evaluation of the reliability of search results, Google has expanded the "about this result" panel to a broader user base, namely European users.
To identify misinformation and the reliability of sites, "About this result" provides more information about the site on the search results page. In this case, even before visiting the site, the user can get a more comprehensive picture of the page.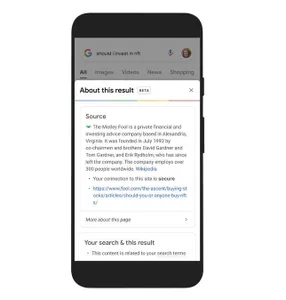 By clicking on the three dots next to the search results, you can get more information about the result, such as when the site was first indexed, Wikipedia's source description, reviews of the site's content, and other contextual information.
"About this result" is now published in Portuguese, French, Italian, Dutch, German and Spanish.
Source: Google Blog
2. PPC News
📢 Google Details The Reasons Why A Video Ad Is Not Showing
Google has added 4 new reasons why a video ad is not showing to the Google Ads Technical Requirements for Unavailable Videos. The purpose is to help advertisers understand the causes of the problem as well as possible solutions.
New added reasons are:
Videos whose status is changed to "deleted" after submission
Videos whose status is changed to "private" after submission
Videos marked live premiere
Videos marked sponsors or members only
Google advises to make sure that the video has not been deleted or marked as private. More detailed instructions on how to fix a rejected video ad can be found here .
Source: Advertising Policies Help
Since 2019, Google has been testing a tool that allows you to easily convert longer videos into shorter bumper ads. Now, the tool called "trim video" has been released, and it allows advertisers to shorten longer videos to six seconds.
Trim video uses Machine Learning to simplify the creation of bumper ads by identifying the key points of a long video and turning them into a shorter video ad. The tool also contains a few editing features that can be used to edit the final result produced by machine learning.
You can use both YouTube videos (using a link) or videos from the Google Ads library as the input for Trim video.
More about Bumper Ads
A bumper ad is an ad format that is best suited for broad reach and for presenting memorable content.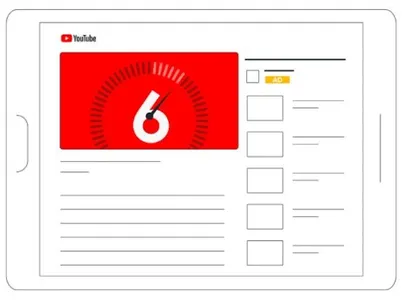 These video ads are up to 6 seconds long and appear on YouTube videos and on the websites and apps of Google's video partners. Ads appear either before, after, or in the middle of the video. Due to the short duration of the bumper ads, they cannot be skipped.
Bumper ads support brand awareness and reach campaign goals.
More detailed instructions on how to use Trim video can be found here .
Source: Google Ads Help
📢 Google Introduces New Performance Max Features
Google publishes new tools for more effective planning of Performance Max campaigns, easier adaptation of campaign asset strategy and more convenient evaluation of results.
Features for A More Efficient Campaign Planning
With Performance Planner, advertisers can predict the return of Performance Max campaigns. Advertisers can edit variables such as campaign budget, ROAS and CPA goals, which can be tweaked to design the combination that will have the best ROI.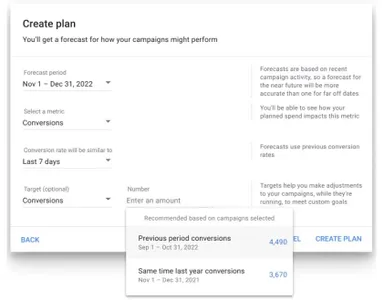 Enhanced Way to Customize the Asset Strategy
Advertisers can schedule Performance Max campaign asset groups using automated rules. With rules, ads can be set to appear at certain times of the day, and asset groups can be scheduled to be paused and activated at will.
Creating and scheduling asset groups in advance is also a new useful feature. Thus, campaign material can be planned and created in advance, so that the workload can be reduced during busy seasons or events.
For Performance Max campaigns, advertisers can also add more headlines. Towards the end of the year, the number of uploadable headlines will increase from five to 15. Adding more headlines allows advertisers to utilize Performance Max's machine learning to the fullest, as even more combinations can be tested to find the best-performing variations.
Easier Assessment of the Results
In Performance Max campaigns, performance explanations are available, which clarifies the factors causing variations in performance and help diagnose problems and review recommendations.
Data segments (collections of website visitors or app users) can be used as audience signals for Performance Max campaigns. Now you can add data segments as audience signals to the Performance Max campaigns. Data segments will be added to audience insights in the Insights page to increase understanding of first-party data.
Source: Google Ads Help
3 Analytics News
📢 Universal Analytics Users Are Given More Time To Switch To Google Analytics 4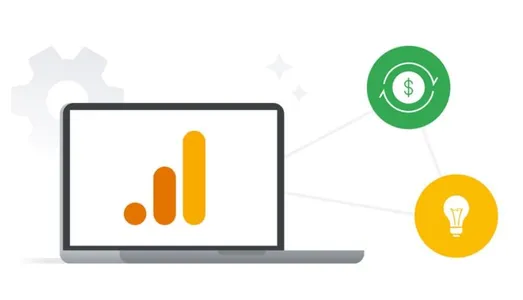 Google is extending the time for Universal Analytics users to transfer to Google Analytics 4. Previously, the deadline for transition was set for October 1, 2023, but it has now been pushed forward to July 1, 2024.
Google offers comprehensive instructions and resources for implementing Google Analytics 4.
These tools include a step-by-step guide for installing Google Analytics 4 and a Setup Assistant . After the installation, you can use the Setup Assistant in the Universal Analytics system administrator as it can automate some of the configuration steps. You can, for example, use the assistant to pick the goals you want to import into Google Analytics 4 as well as copy the Google Ads links and audiences you want.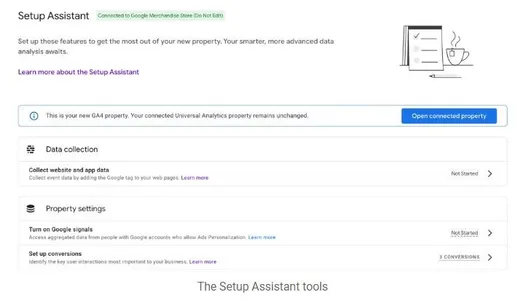 Despite causing some gray hairs, changing the analytics system to a new platform is necessary. Universal Analytics was created at a time when the Internet was not something we carried with us in the form of mobile phones, let alone other technological changes in our society. Google Analytics is built for our today's connected society and offers many new improvements over its predecessor, making it a truly better version.
Source: Google Marketing Platform
To improve the use of the platform, YouTube introduces new visual and interface-related updates. The updates will gradually become available to all users starting on October 24. Next, let's go through the new features in more detail.
Ambient Mode
Youtube has released ambient mode - a lightning effect, with the help of which the warm colors of the video are also transferred to the background color of the application. Ambient mode received a positive reception among platform users during the testing phase, so it's no wonder that the feature has now been released.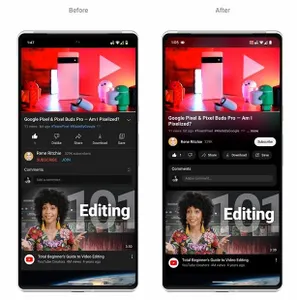 Ambient mode is available on the web and mobile and is automatically enabled when the user activates the dark theme. The new mode is also available for video playlists. To disable the ambient mode, first go to settings, then click on the ambient mode, and then disable the mode.
YouTube has also made the dark theme even darker so that the colors of the videos are better highlighted. The new dark mode is available on the web, mobile, and smart TVs.
Button Changes
The links in the video descriptions become buttons. The subscribe button also has a new look thanks to the new shape and color as the button is now black and white instead of red. The like, share and download buttons have also been designed in a new, less disturbing way for the viewer.
Pinch-to-zoom Feature
YouTube's new zoom feature lets iOS and Android users zoom in on videos for a closer look at details. Now, a similar closer inspection of images is also possible in videos. The improvement is certainly useful, for example, for various product launch videos, because the exact details of the product may be of great interest to the viewers.
Precise Seeking
With the help of precise seeking , a certain part of the video can be easily found. You can find the exact part of each video by simply dragging or swiping up in the video player, and the video will appear as a row of thumbnails. This feature is available on desktop and mobile.
Source: Youtube Official Blog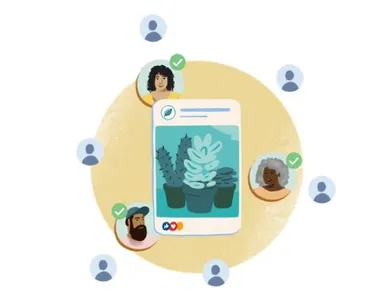 Meta has put together five ways to ensure the effectiveness of advertising campaigns, keeping activity-specific costs low and optimal targeting to the most potential buyers. The tactics are especially curated for small-to-midsize businesses.
Conversions API : A tool that more reliably connects Meta ads and web events. The conversion API is recommended to be used alongside the Meta pixel (formerly known as Facebook pixel).

Simplified Ad Sets : By combining ad sets that are similar in terms of content and goals, competition between the groups in the auction is prevented, and you'll get the needed results faster. Inter-competition is likely to increase inefficiencies and raise costs.

Mobile-friendly Video : According to Meta's testing, compared to non-mobile-friendly creative, mobile-friendly creative (vertical or 15 seconds or less) resulted in lower average cost-per-action (CPA).

Broad Targeting : In broad targeting, Meta's distribution system tries to find the most optimal users to whom the ad is shown. According to Meta, small business advertisers using broad targeting (location, age, gender) and a conversion goal had a lower average CPA than those who did not use broad targeting

Ad Testing : The A/B test defined in Meta's ad management compares two versions of your ad and finds out which version works best. The test should be based on a predetermined hypothesis and only one variable at a time should be changed in the test. It is also recommended to continue testing for at least two weeks.
Source: Performance 5 Framework
📢 LinkedIn's New Features Against Spam Accounts
As the number of social media channels accessible to users grows, so do the opportunities for spam accounts.
LinkedIn is improving user authenticity verification as the platform releases new features to combat spam accounts. The new features, with a goal of detecting the fake accounts, include:
A new "About this profile" element, which tells about the time the profile was created, when it was updated and if the account has a registered phone number or email.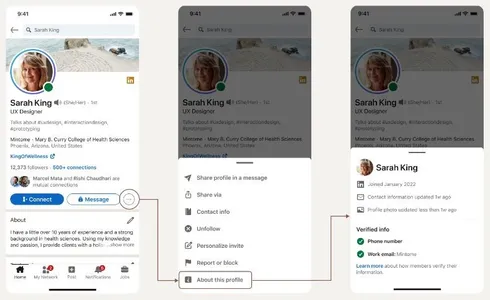 LinkedIn uses a new deep learning model to identify fake accounts with AI-generated profile pictures. Thanks to the increase in computing power of machines and the development of models, deep learning is nowadays really capable in image recognition, for example.
A warning is added to suspicious messages, with the aim of stopping suspicious content. Users may be warned about such messages and have the possibility to report such messages to the platform.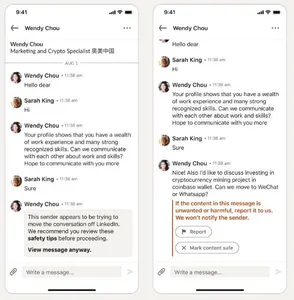 Source: LinkedIn Official Blog
📢 Twitter Expands Campaign Planner Features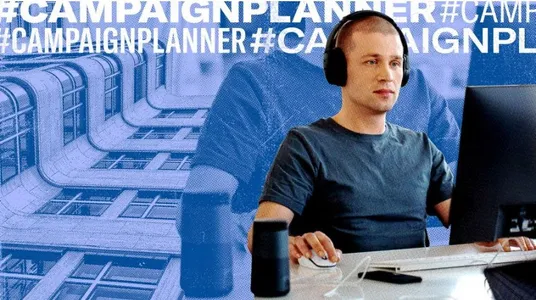 Campaign Planner is a tool that predicts the results of campaigns before publication based on the variables provided by the advertiser.
Twitter announced that it will expand the availability of the Campaign Planner forecasting tool, because instead of the former 3, the tool is now available in 18 countries: Argentina, Australia, Brazil, Canada, France, Germany, India, Japan, Mexico, Philippines, Saudi Arabia, South Korea, Spain, Sweden, Thailand, Turkey, Great Britain and United States.
Campaign Planner now also supports campaigns with the goal of Video Views. In addition, advertisers can use the tool to predict Reach campaigns within the Replies placement.
Source: Twitter
📢 TikTok Academy - A Virtual And Free Training Platform For Marketers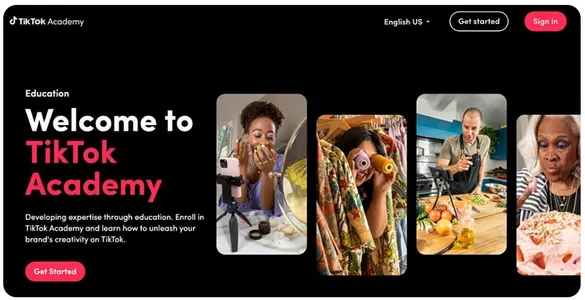 The purpose of TikTok's new training platform is to educate in-house marketing people and agencies on how to use TikTok for Business.
TikTok Academy's courses are based on game-based training. Courses include tutorials and handy tips for succeeding on TikTok. For successful completion of the course, the person receives a TikTok Academy badge, which can easily be added to a LinkedIn profile, for example.
TikTok Academy includes two curricula: the 101 Course (A 2-4 hour course covering TikTok's product range, platform security and creative best practices) and the Small Business Course (four 15-minute lessons designed specifically for small and medium-sized businesses starting to use TikTok).
Source: TikTok for Business
5. Tech News
📢 Upcoming App For Creating Commercial Grade Music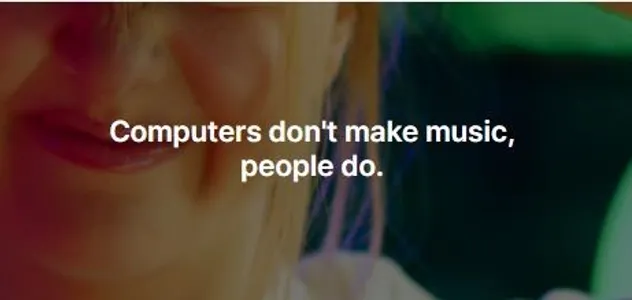 Attention content creators: music startup Hyph is releasing a new mobile app to make creating music for commercial use as easy as possible. Since the app contains ads, it is also free for its users.
With Hyph, users can create original songs by utilizing the application's music library, whose so-called basic catalog songs the user can add instruments such as bass, guitar, strings, drums, and piano or audio recordings of their own vocals. The app will be released in the spring of 2023 and will be available for Android and iOS devices.
US-based Hyph was founded this year and raised $26 million in seed funding from private investors. The new application has been developed specifically for Gen Z, who are particularly interested in becoming social media influencers.
We'll have to wait for next year to see whether the new app will become a mainstream tool for influencers.👀
Source: Hyph Announcement
📢 New Passkey Method Allows Apple Users To Log Into Paypal More Easily
Paypal makes logging into its services easier for users of Apple devices. Paypal has introduced a new login method - passkeys. Passkeys allow Apple users to log into Paypal.com without entering a password.
Passkeys are based on technology that is resistant to phishing and is designed in such a way that the same password is not used on multiple platforms. Thus, Paypal strives to make paying more secure, but also more convenient without passwords.
Currently, Paypal passkeys are available in the United States. In other countries, the new login method will be available at the beginning of next year. Support for non-Apple devices will also be available next year
Source: Paypal Announcement