Artificial intelligence (AI) copywriting tools are becoming increasingly popular in the digital marketing industry . Obviously, you would like to choose the right one to work with, but there is a question: how to pick the one in this huge ocean of choices? Let's find out and explore some of the best AI copywriting tools available in the market today. This article will help you navigate the waters and find the best tool for your needs, so you can stop searching and start writing.
Top 10 AI Copywriting Tools In 2023:
- ChatGPT
- Jasper
- CopyAI
- Rytr
- Wordtune
- Smart Copy
- Peppertype
- Longshot AI
- Frase.io
- Writesonic
Without further ado, let's get started!
What is AI copywriting?
Simply put, AI copywriting refers to the use of artificial intelligence to generate written content. Oftentimes utilized by digital marketers and other small and medium-sized businesses, it can be used to produce a variety of text-based materials, such as blog posts, product descriptions, and even sales pitches.
In AI copywriting, a set of parameters, like keywords and themes, are given to the AI system. As a return, you get ready-made content that you can either directly utilize in your work or edit it to give a touch of human sense to it (I highly recommend you to do that).
These masterminds, called AI copywriters, are based on machine learning and natural language processing models (NLPs). They enable AI copywriters to analyze and replicate the style, tone, and language of human-written content to produce high-quality texts that are both grammatically correct and engaging for the reader. Using AI copywriters is a game-changer for businesses and content creators. It automates content creation, boosts productivity, and lowers costs. Plus, it ensures high-level quality and consistency throughout.
How to use AI copywriting tools effectively?
AI copywriting tools can streamline and automate the process of creating content, but they may not always be straightforward to use.
The first step is choosing the appropriate tool for your needs , as different AI services are created for different tasks. The second step is incorporating the tool into your current workflow. The final step is to edit the… out of it. Okay, maybe that was too harsh. But you definitely need to learn how to edit and review AI generated content effectively.
This article addresses the best AI copywriting tools in 2023 and how you can make sure that you are choosing the right one for your needs. Stay tuned for our future posts on various aspects of AI copywriting!
10 best AI copywriting tools in 2023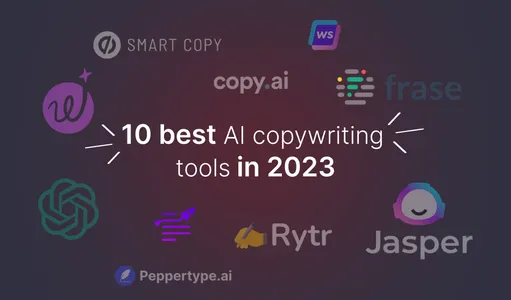 With everyone trying to get into the artificial intelligence craze to get their share of the cake, it can definitely feel overwhelming in terms of choice. And honestly, I've felt it too; I could easily name 15-20 other alternative tools that do a great job in terms of creating useful content for anyone, really.
However, you always have to choose which one to address - here are my 10 best copywriting tools in 2023, curated just for you.
ChatGPT
At this point, there is probably no copywriter that hasn't felt either threatened or excited by Chat GPT's ability to generate human-like content in written format. Indeed, ChatGPT (Generative Pre-trained Transformer) is able to execute relatively complex requests in terms of content creation and answering questions in a natural way.
The natural feeling comes from the fact that this language model acts in a conversational manner, i.e., the user feels like it is in a constant, dynamic, two-way interaction.
While ChatGPT has not been designed to be an AI copywriting tool, that is certainly one of its ways of usage.
Key features
Can generate human-like text : GPT is trained on a massive dataset of human-generated text and can generate coherent and coherently-structured text that is difficult to distinguish from text written by a human. This makes it a useful tool for generating copy that sounds natural and engaging.
Can perform a variety of language tasks : GPT is trained to perform a wide range of language tasks, including translation, summarization, and text generation. This means that it can be used to perform many different types of copywriting tasks, from crafting headlines and social media posts to writing marketing copy and sales emails.
Can save time and effort : Using GPT to generate copy can save time and effort compared to writing copy manually. This is especially useful for tasks that require a large volume of text to be generated, such as creating content for a website or social media accounts.
Pricing
The price is almost as equally admired as Chat GPT 3's skills to create sensible written content. As the service is still in its test mode, the service is free to use for everyone , making it currently the most popular AI copywriting tool in the market.
However, please note that this tool will be monetized once they have enough data and information gained from the beta testing phase.
Advantages
Free (for now) . Anyone has access to try one of the most capable AI copywriting tools available in the market.
Creates text that appears to be human-like with a coherent structure . The human aspect of Chat GPT is impressive, especially in English, which is something that other AI content writing tools seem to lack.
Simple to use . Unlike many other AI content tools for writing, Chat GPT has only one place to insert your query. Likewisely, you'll receive the answer almost instantly.
Customized queries . Since Chat GPT allows you to request almost anything, you can customize the answers to your queries depending on how detailed descriptions you give to it.

Disadvantages
Monetization will come (sooner or later) . In other words, access to the service will be available only for those who are ready to pay the price.
Unable to generate answers requiring current information . Since Chat GPT is a language model, it does not have access to the internet or current events.

Jasper
Jasper has been one of the most well-known and profound AI copywriting tools for a while so much so that I'd describe it as the current market leader in this currently highly competitive area of services.
One of the reasons for Jasper's success lingers within the fact that it has used the Chat GPT as its base for quite some time now, thus giving consistently coherent answers to requests given by the user.
Key features
Jasper provides one of the most extensive sets of templates in the AI copywriting tool scene. Based on my extensive research, the most useful ones are:
Content improver (This one's a chef's kiss)
Blog post topic ideas
Google Ads -tools (both headlines and descriptions)
Meta titles and descriptions
Ridiculous marketing ideas
Honestly, while probably not the most useful, the ridiculous marketing ideas -tool is a jewel in getting you out of the brain fog when you are writing that 16th blog post brief or writing ALT texts like a robot.
However, the most important feature of Jasper is its Boss Mode. If you are ready to pay for it (and I highly recommend it in case you are to go for Jasper), it allows you to basically tell what you want and Jasper does that for you (just like Chat GPT). Thus, you are not limited with templates, unlike many other copy AI tools.
But, besides the Boss Mode, Jasper goes even further by providing extensive customer care and SEO integration with Surfer SEO. This is where the real value comes in; most tools are simply not able to tackle SEO as a part of the AI copywriting process. While it is still unknown as to what is the role of AI content in the words of SEO, it still is nice to see this integration to be provided.
Pricing
Coming to 2023, Jasper is one of the most well-known - and therefore, one of the most expensive copywriting AI tools in the market. With all the extensive features, available onboarding and training, and other community features, it is however to be expected.
Jasper's pricing model is similar to any other AI copywriting tool; the more you generate words per month, the more you pay for it. New users are able to have a free 7-day trial before deciding whether they choose to continue with the subscription. In light of knowing how many features Jasper offers, I highly suggest you start the trial period when you have a lot of various text types to work on.
As a basis, Jasper offers the following three packages - starter, boss mode, and business, the latter package being a tailored option for companies and available only by sending a request for Jasper directly.
Jasper's pricing starts at 49 dollars/mo . The other packages offered are:
Team mode: $125/mo
Business mode: Custom Price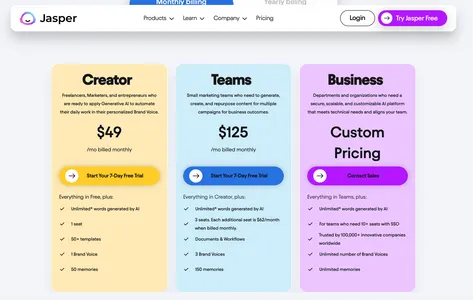 Furthermore, with an annual package, Jasper users are able to save 20% of the total annual fees. What is unique in Jasper is that you can customize the starter and boss mode packages according to your expected number of words generated per month. Therefore, it may be worthwhile to spend some time estimating just how much you really need.
For most, the Creator package is more than enough. In case you work a lot with content or there are more than 5 people that will require Jasper on a weekly basis, it may be worth it to invest in the boss mode or send a personal request to the service.
Advantages
Practically unlimited results with Boss Mode. Unless you have a big marketing agency where each and every employee is highly skilled in how to master Jasper, you'll find it tricky to use your word limits set per month.
Impressive results . Like said, Jasper is able to create coherent content consistently especially when it comes to short content. With long content, the quality starts to suffer.
Extensive features provided for various types of content make it a beginner-friendly AI copywriting tool.
Plagiarism and grammar-checking features provided by Copyscape and Grammarly integrations help copywriting professionals to expand their usage of Jasper making the investment more valuable.
SEO tools and integrations . As a SEO specialist, it is not a surprise that I focus on these. Jasper has good templates for those mundane content SEO tasks that honestly, we all want to get done as fast as possible. Moreover, Jasper supports Surfer SEO integration , which other copywriting tools do not.
Learning videos and on-demand training . This one is a major one. If you really commit to the whole AI copywriting thing, then Jasper surely gives you a lot of learning opportunities for that.
Visually intuitive and appealing . The visual layout and cues is surely one of the reasons why most choose to go with Jasper. It is made so that even a complete AI tool beginner is able to figure out how to use it within minutes.

Disadvantages
The price . As assumed, when there are a vast number of ready-made templates, communities, extensive customer care and even learning materials, you can only expect to see it in the pricing. Jasper is not cheap.
Language restrictions . While these are true for all copywriting AI tools, I'd prefer you to be aware of the fact that even an AI copywriting service provider such as Jasper struggles with these issues. For now, I'd recommend using Jasper mainly for English content.
Presents inaccurate numerical data . Once you start using Jasper more, you'll notice that Jasper tries to help you with factuality by giving numerical or statistical information. Unfortunately, as it often is a) wrong always b) without any source, the results become completely or partly unusable).
Too many templates . Yes. While it may seem wonderful to have so many different templates available, it also can feel overwhelming (especially if you do not have a time set for learning the platform in its entirety). Before taking the time to test most of the templates available, you bet I was utilizing the Content Improver tool 95% of the time.

CopyAI
If you have stepped foot in the world of AI writing tools, chances are you are familiar with CopyAI . Promoted by many marketers and influencers on various social media platforms, this tool is certainly discussed especially among the influencer scene.
Utilizing Chat GPT as its base, CopyAI is a solid tool that has a lot of similarities with Jasper. It even includes some quirky ones - like dating profiles and wedding vows - making sure that you never have that fear of a blank page again.
Key features
Much like Jasper, CopyAI offers multiple valuable tools and templates. Depending on your content needs, some of these templates are a solid choice to start experimenting with on CopyAI:
Blog Ideas
Google Headlines
YouTube Title and Description templates
TikTok Brainstorm Topics
Sentence Rewriter
Pricing
Unlike with Jasper and its quirky possibilities to customize the price of the service based on the expected number of AI generated words needed on a monthly basis, the pricing model of Copy.ai is straightforward:
Free version
Pro version: $42 per month (or $36 if billed annually)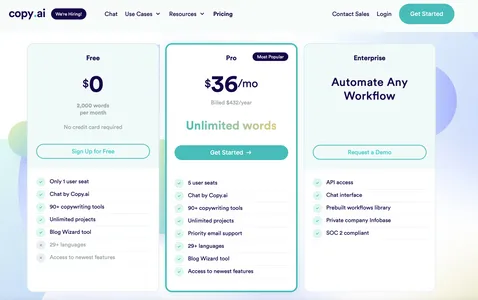 And, as you probably may have guessed, CopyAI also provides customized packages for companies. This service provides customized packages once you have the necessity for at least 20 users.
Advantages
Consistent quality on short-form copies . Once I took the jump to try out Jasper's main competitor Copy AI, it has to be said: when it comes to short-form copies, Copy AI does not lack in performance. It provides solid results for short copies such as titles and descriptions while also helping with idea generation.
Generous number of copy templates is great for copy AI beginners . While I see too many templates as a somewhat restrictive feature, someone working in other digital marketing sectors may not. The templates give a good scope of understanding on what AI can and cannot do.
Good value for money . Attractive price point is why you may choose Copy AI over other tools. The cost is a fraction of Jasper's price (yet more than some other copy AI alternatives) yet for many, Copy AI is more than enough in terms of their content needs.

Disadvantages
Poor performance in long-form content . After experimenting with a blog post for a client, I have to agree with other Copy AI reviewers in that Copy AI is not the tool for long-form content. The quality of the copy starts to suffer the lengthier the content gets by getting repetitive or simply incomprehensible.
Lack of integrations . Needless to say, CopyAI lacks some of the most desirable integrations, such as SEO tools and Grammarly.
Too many templates . Like I said, this is probably just me, but I find the 90+ templates just too overwhelming, due to which you also need to jump back and forth between templates in case you are writing a longer copy with it.

Rytr
A solid contestant in the content writing tool game, Rytr has gained its own fan base. While often being criticized for its less attractive UX (which is true), it provides a solid solution for many copywriters looking for that extra assistance or boost to their original copy.
As an underground tool, you hear less about Rytr compared to the ones I've introduced to you already. Being aware of it, they provide a lengthy yet necessary video tutorial on how to use their tool right after you sign up for their free trial. Highly recommended to watch it.
Key features
While Rytr has similar templates to other AI copy tools, I'd like to enhance the following features instead of templates:
Minimalist user interface
Tone of voice
Editing tool
Plagiarism checker
Image AI tool
Pricing
Now, pricing is one of the reasons why many copywriters with AI copy tools experience saluting for Rytr. The pricing goes as follows:
Free (for up to 10k characters/month)
Saver plan (for up to 100k characters / month) - $9/month
Unlimited plan - $29/month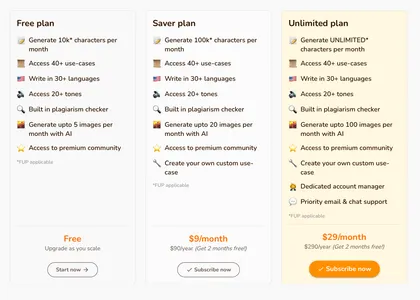 Now, if we compare these prices to Jasper and CopyAI, you can see why many opt for Rytr. The free plan is already quite extensive (I mean, you even have the chance to generate up to five AI images per month and have 20+ tones available).
Honestly, the free deal is so good I would go as far as saying that the only real reason to upgrade to the Saver plan is simply the fact that you might need more characters per month. Otherwise, enjoy free copywriting with Rytr as long as it lasts!
Advantages
Simple interface . Yes, hear me out. While many criticize Rytr for a less intuitive UX, I have to defend Rytr due to its simplicity. If you are either used to traditional text editors (such as Microsoft Word) or you have a bit of knowledge of AI copy tools, you'll find the traditional layout of a text editor soothing.
Attractive price . Let's not lie - one of the core attractive features of looking into any alternatives is usually the price. Rytr offers a solid package even for its free users, and in case you pay a bit extra, you get true value for money.
Tone of voice . From awestruck to critical and joyful to worried, Rytr provides more than 20 different tones of voice for you to experiment with. Perfect for those who are looking to tweak their already good content.
API access . Rytr's "powerful API lets you easily add text to your app by creating content for 30+ languages instantly from scratch", as they say on their site. With the promise of a smooth integration, API access is an advantage.

Disadvantages
Takes time to learn . Unlike Jasper and Copy AI, the layout is not as intuitive. The blank canvas with simple navigation may scare beginners at first. While Rytr does its best to offer training on how to use its product efficiently, I honestly think that learning how Rytr works may not be for those who need written content occasionally, but are in a rush.
Content quality . At some point, the quality starts to suffer especially when it comes to languages other than English. As with all content created with AI, it is recommended to do fact-checking before publishing anything anywhere.

Wordtune
This one is golden!
Okay, hear me out. I promise to stay as objective as I can, but I REALLY love Wordtune . In my humble opinion, Wordtune is one of the most useful tools for copywriters. The tool is practical and it has been made to solve a very common problem; as the name suggests, it allows you to finetune your words and phrases to excellence.
To put it in a nutshell, you launch the software and it gives you several alternatives of the given sentence (or paragraph on Premium mode) that you want to improve. Alternative options usually include shorter and longer sentences as well as versions that have different structures or simply synonyms for some core words in the given sentence.
Then, you simply choose which alternative piece of text you prefer. Now, you can do this in the Wordtune Editor, but the real fun begins when you install the Chrome extension. Expect to tune your words within seconds! (And yes, I promise this is not a paid ad, I just really love this one).!
Key features
Now, unlike Jasper, CopyAI, and many other AI content-writing tools, Wordtune offers a more narrow scope of features. The features are:
Rewriting
Tonality (casual/formal) (Premium only)
Length (shorten/expand) (Premium only)
Paragraph Rewriting (Premium only)
All features on the Premium plan are unlimited so that you can enjoy endless alternatives to your sentences and paragraphs.
Pricing
Wordtune's pricing policy is both easy and affordable. The pricing models are:
Free
Premium $9.99 / month
Premium for Teams (custom price)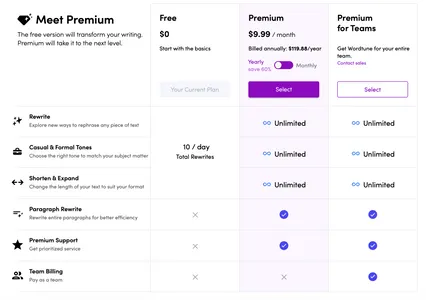 The free plan allows you to do 10 rewrites per day. In my opinion, it is more than enough to give you a solid understanding of whether this AI writing tool is something you find necessary.
With the premium plan, you get access to all features; unlimited rewrites, tonality modes, and possibilities to shorten or lengthen the text and get paragraph rewrites. Additionally, you'll have access to Wordtune's customer support.
Advantages
Gives instant help in fine-tuning content . You'll see instant alternatives to your sentences. Replace your sentence with an alternative by just clicking on it.
Chrome extension is where the fun starts . Due to a solid Chrome extension that works like a well-oiled machine, you have no need to open the Wordtune editor in most cases.
Solves a concrete problem in copywriting . At least in my case, there's always this thought of 'this could be improved somehow'. Wordtune acts as a friend that gives you those alternatives when you cannot come up with one.
Solid free mode . The free mode allows you to experiment with the tool enough in order for you to understand whether this AI copy tool is for you or not.
Great price point . Expensive AI copy software may be too overwhelming and overpriced for your needs. With Wordtune, it is easy to get your money's worth of content.

Disadvantages
Not a full-scope AI copywriting tool . If you are looking for the ultimate AI copywriting tool for all your content needs, Wordtune is not for you.
Occasional struggles with long sentences . I've noticed that when it comes to extra lengthy sentences, Wordtune sometimes struggles to provide alternatives that would properly enhance the original content.

Smart Copy
Provided by Unbounce , Smart Copy is a more unknown option for AI copywriting. The company offers multiple tools for digital e-commerce and marketing, such as tools for landing pages, popups, and more.
Key features
The most intriguing key features of Smart Copy are:
Google Chrome Extension
Writer Feature (for long form writing)
Copy Insights (for SEO insights - coming soon)
Other features include Grammarly, projects (having a project for each client and training the AI for each client's needs), 45+ templates and 30+ languages.
Pricing
The pricing models for Smart Copy are straightforward:
Free
Essential - 19$/month or 9$/month with special offer
Unlimited - 49$/month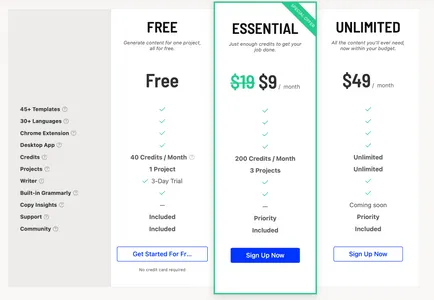 Most features are included in the free 3-day trial (so no, don't expect to have unlimited access to the free mode). While I felt that the three-day trial period could certainly be a bit longer, at least you have the opportunity to explore the most valuable features.
And naturally, if you end up loving the service, you always have the option to choose the annual plan for both the Essential and Unlimited plans, giving you two months for free.
Advantages
After experimenting with several templates available, I enjoyed the following aspects of Smart Copy:
Familiar layout to other AI copywriting tools . If you have experimented with other tools, you'll find Smart Copy easy to use. Their user interface is very similar to other AI copy tools.
Decent results on short texts . For ads, idea generation and social media posts, Smart Copy creates adequate results (if you are okay with giving your own touch and editing them)
Exciting Writer mode . The Writer mode is honestly where things get exciting. This tool, perfect for blog posts and product descriptions, looks like any text editor. While I wouldn't really publish directly anything created by the tool, it can certainly be a helpful platform for those who need extra support for long form copies.
Additional AI tools for digital business . Smart Copy's owner Unbounce offers various tools for digital marketing. If you are up for finding out more about their tools, it might be that Unbounce is the one that can provide you the one stop shop -solution to your digital marketing needs.

Disadvantages
While Smart Copy has solid branding and is included as a part of Unbounce's service packages (with other tools included), unfortunately, the disadvantages outweigh the advantages:
Long and unnecessary forms . Honestly, in this day and age where everything should happen in an instant, it is extremely frustrating to start filling in information about your company, market size, copy needs, audience, keywords, and more before you actually get access to the tool itself. If it wasn't for this review, I would have given up right after seeing the form.
Incoherent results . While this is true for any AI content tool, I found the copy to be not so… smart. Unlike with Jasper, Copy AI, Wordtune, and more, I didn't get out a single result that I could have used directly. This was especially the case when testing the tool for Finnish content.
Small amount of Free credits . If you are serious about finding the perfect tool for your AI content needs, 10 credits (= equals to 10 results) just isn't it.

While my experience was less than pleasant, the reviews online seem to tell the opposite which is why I'd probably suggest you to still try Smart Copy, if you are alright with experimenting before committing to one tool.
Peppertype
Peppertype is the place to be if you're tired of mediocre content that puts you to sleep faster than a lullaby. Its AI engine has been trained on over 100K+ pieces of content, so you can trust that it knows what it's doing.
Furthermore, it provides content strategy, ideation, editing, and proofreading services. You can choose from a library of writing styles that cater to your needs. Basically, it's a one-stop shop for all your content-related preferences.
So, no more wondering where to begin. With this guy, you can simply select your preferred style, choose a relevant topic, and watch as the AI engine works its magic to captivate your audience.
Key features
The most attention-worthy features include:
Revamping old content
Auto-fix and text prediction
Modifiable keyboard interface
Plagiarism checker
Pricing
Currently, there are two pricing models available:
Premium - $699/mo or $399/mo with a discount;
Enterprise plan depends on the personalized solutions and integrations provided.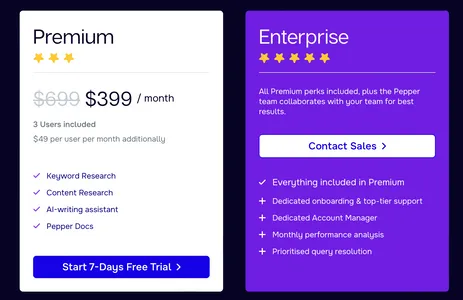 Advantages
Let's take a look at this huge list of advantages:
Ease of use and setup . Its sleek and modern design allows you really quickly navigate through the different features and functions. The interface is streamlined, uncluttered, and intuitive, with clear instructions and visual cues guiding through each writing step.
Style editor and citation finder . Those features are like having a writing genie in a bottle. The style editor lets you tweak your writing style to fit any occasion, while the citation effortlessly assists you in inserting relevant citations with a breeze.
7-day trial period . This period is like a wild adventure for your writing journey - you have ample time to explore all the platform's hidden gems and secret shortcuts before making any commitments.
Personalized content that you are sure to like . It effortlessly generates contextual content that fits your needs and exceeds your expectations. So that you'll never be lost for words again.
Analytics email feature . Responsible support team. It's like having a personal assistant that keeps track of your content's performance so that you can focus on the other stuff. And don't worry, their support team is the fastest one, always ready to give you a helping hand.
Modern design with easy-to-use features . Peppertype's interface is user-friendly and intuitive to use so even a true beginner can handle it. The website runs smoothly, making it a joy to navigate.
Splendid SEO-optimized content . Peppertype doesn't just help you write great content, it also helps you write content that search engines will love! With the ability to specify target keywords and other SEO optimizations, Peppertype will be the bestie SEO wizard for your writing.
Bug-free platform . Peppertype runs seamlessly without any pesky bugs or flaws that could derail your writing flow. So you need to try really hard to find the one.
Progressive algorithm . Peppertype uses the latest and most advanced language prediction model, GPT4, resulting in high-quality and relevant outputs.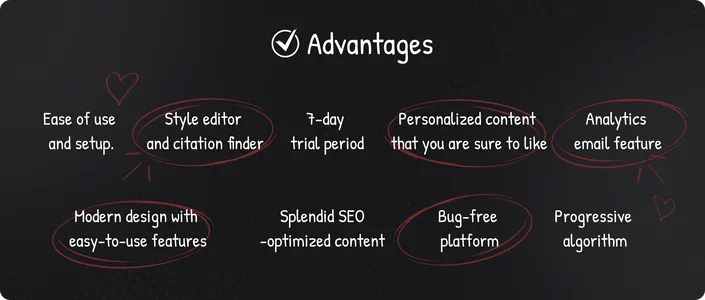 Disadvantages
Unreasonably expensive . Considering its basic long-form editor and comparing it with other AI writing tools, it is evident that Peppertype's pricing is relatively higher.
Inexact suggestions at times . Page-refresh might help and you can try different options though.
Lack of diversity . Peppertype's generated content may lack variety as it can become repetitive after a few iterations.
Short in features . Peppertype may be the perfect tool for those who don't like options or personalization. However, for those who like to have a say in their content, its lack of features may leave them feeling like a plain bagel in a world of everything bagels.
Absence of Live Chat Support . Peppertype does not offer live chat support, but you can still email them or explore their knowledge base for assistance.
Limitations of Longform Editor . To be honest, producing complete blog posts within Peppertype's Longform Editor can be challenging due to limited formatting options and a lack of integration with other AI tools.
Genre-Specific Limitations . Peppertype sticks to non-fiction, so poets and lyricists might want to find a more creative AI.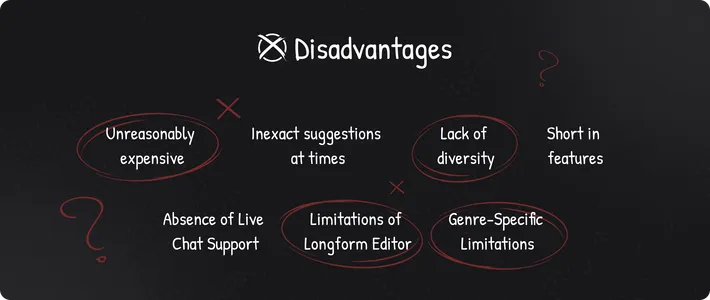 Longshot AI
Longshot AI is a platform that provides access to multiple powerful AI engines. So they've got the brain power to help you create SEO-friendly and more engaging content than before. This platform is designed to assist users in generating long-form content, which can be ideal for blog posts, articles, and other types of written content.
So this platform is an excellent tool for individuals seeking to produce top-notch content that is both search engine optimized and engaging for their audience. The platform offers a user-friendly interface, making it effortless for users to create premium content that yields positive outcomes.
Key features
Claim detection tool
Fact GPT and fact-checking
Seamless UX
Diverse range of templates
Pricing
As you may expect, Longshot AI offers a variety of plans to satisfy your every writing whim, whether you're a penny-pinching wordsmith or a wordsmith with no limits.
Free plan (for up to 100 credits/month);
Pro (for up to 1k credits/mo)$19/month;
Team (for up to 3k credits/month)$49/month;
Agency (for up to 30k credits/month)$299/month.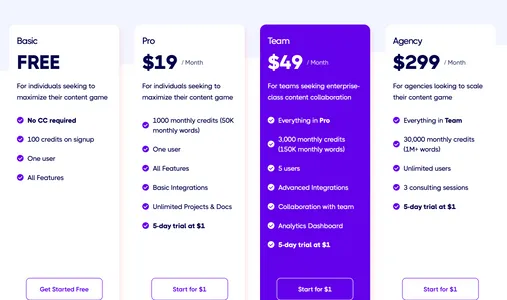 Advantages
Free sign-up & reasonably priced plans . Longshot AI offers a pricing plan that won't break the bank, starting with a free sign-up and 100 credits to play around with - no credit card required. Additionally, those who want to upgrade can do so with the confidence of a 5-day trial for just $1.
Straightforward interface . Longshot AI is user-friendly, so everything goes with ease. Just log in, and let it do the job.
Customizable output options . This platform is a master of customization so that you can shape your generated content like sculpting clay - but without the mess. There are customizable output options for formatting, length, and more.
Rapid output . This speedy language model can create fascinating content with minimal input. And with the fact-checking feature, you can ensure high quality and accuracy without sacrificing efficiency.

Disadvantages
We are getting close to the cons, and there are just a few of them:
Challenging for newcomers . If you're a newbie to the world of AI copywriting tools, the learning process may seem steep at first. Longshot AI's user interface is intuitive and simple, but if you haven't explored many tools in this field, it may take some time to get used to.
Low customer support resources . Building upon the topic of the user interface for newcomers, the lack of adequate support resources may present a hurdle if you are seeking prompt technical assistance or guidance regarding the platform's features.

Frase.io
Challenging Jasper, Frase.io provides a premium solution to content needs. Focused on search engine optimization, this AI tool is able to guide you with research, briefs, writing, and even optimizing.
What is interesting is that, unlike many other tools that are based on language learning models, Frase uses its own technology and analyzes only the top 20 results on the SERP, resulting in higher quality output compared to tools based on language learning models. This patented technology by Frase.io is definitely the reason why the tool is both expensive yet unique and desirable for SEO specialists.
Key features
Since Frase.io is highly focused on SEO, the main features are related to it:
Content Brief
Content Optimization
Analytics
Google Search Console integration
Pricing
Coming at a hefty price, Frase.io offers the following packages: - Solo - $14,99/month - Basic - $44,99/month - Team - $114,99/month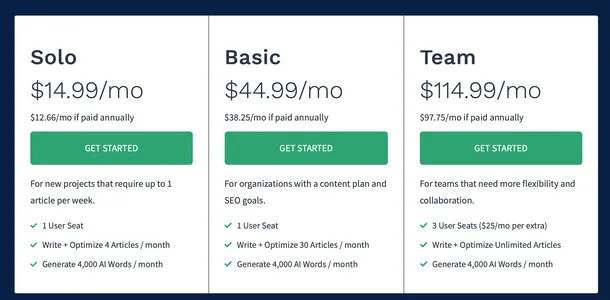 Similar to other AI copy tools, Frase.io also offers a discount if you go for the annual plan. What is worth noting is that the user seat numbers are very limited. With solo and basic, you only get one user seat, and even with the team package, you have only three seats available. In case you need more seats, that will cost you another $25. Additionally, the unlimited version, as well as any of their Premium features, for any of the packages costs an extra $35.
TL;DR - expect to pay close to $150/month in case you are getting the tool for multiple users.
Advantages
Weekly live Q&A and weekly live 101 product training . It provides a great opportunity for you to ask questions, clarify doubts, and get hands-on training on using Frase.io effectively.
Editable Links . Give your writers the freedom to edit without using up valuable seats. Just simply send them an editable link and let them do their thing. Available for Team plan.
Top-notch SEO . One thing that stands out to me is the high quality of their SEO tools. The platform analyzes both the content and added keywords each time a document is opened. Moreover, you have the flexibility to review keywords at any time, which is incredibly convenient.
Help center and crash course . That helps a lot to get started with the tool. The help center provides detailed documentation, FAQs, and video tutorials and if you want to delve even deeper, you can enroll in the crash course to speed up the basics.

Disadvantages
While Frase.io can be classified as a premium service, it also has its disadvantages:
Unnecessarily expensive . While Frase.io has so far the most extensive set of tools for SEO, I am not convinced (yet) that it can replace other more established search engine optimization tools.
Add-on plan for unlimited content and premium features . This is probably the most disappointing aspect of Frase.io. With a premium price, you'd expect the best.
Writesonic
Writesonic is an AI writing and visual generation platform to create a wide variety of content in a speedy mode. It has a reliable product with a compelling starting price.
I believe that the output quality of Writesonic is almost on par with Copy.ai. The output is snappy and swift, so you can quickly expand your long-form content.
Key features
Long-form writing assistant
AI image generator
Versatile sonic editor with text options
Rewrite articles from any website URL
Integration with WordPress and Zapier
Custom AI feature creation
Pricing
Free (10k words for sign up and 2500/month)
Long form (from 60k words) from $12,67/month;
Custom plan (contact customer support)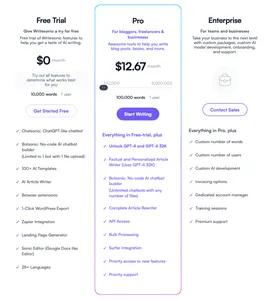 Assuming a plan offers 60,000 Premium words, this gives you the freedom to use 60,000 Premium words exclusively or mix and match 30,000 Superior quality words and 15,000 Ultimate quality words to create a wordy masterpiece.
Advantages
Easy to use . It generates high-quality content without any prior writing experience. You can simply input your topic or prompt, select your preferred tone and style, and watch as AI generates unique content in real-time.
Affordable pricing & free trial . Writesonic is one of those nice guys that provides free onboarding and visually pleasing price options. The platform offers 10,000 free words upon signup, which is more than enough to experience the platform and decide if it's the right fit. Additionally, you can receive 2,500 words on a monthly basis, which is ideal for those who don't require a large volume of content. For those looking to create a masterpiece, WriteSonic offers a range of pricing plans based on the desired amount of words and the quality of the output.
Discount for students and non-profits . Students and non-profit organizations can take advantage of 30% discount on annual plans saving money.
All-purposes tool . From blog posts to social media content, WriteSonic offers a diverse range of content creation options through its affordable premium plan. Literally all-in-one tool for all your needs.
Brilliant customer support . Customer support is always to help you overcome any issues that may arise. It's available 24/7. You can reach out to them via the support portal, email, or live chat.
Rich database . You can find a wealth of resources such as articles, pages, and videos to help you get the most out of the platform. These resources are useful for both beginners and experts.

Disadvantages
Wasted credits . If you want to create content without any hassle, learning the rules and keeping track of credits can be a nuisance. Generating low-quality content by mistake, especially if you are new to the platform, will still count towards your credits used.
Limited users . Certain users find fault with the restricted number of users allowed on their accounts. The premium plans only permit a maximum of four users.
A bit of shaky construction . The platform's customization options are constrained, while advanced editing functions are absent, and occasional glitches and bugs occur.
Challengeable resources . Despite the platform offering a plethora of valuable resources, certain users may encounter difficulties in learning how to use it.

Conclusion - which AI copywriting tools are worth it?
The simple, yet annoying answer is: the one that suits your needs. But this is the answer. You have to experiment with multiple options before settling down with one (or two) tools.
For hardcore content writers: Jasper . This tool can do it all and much more. If your company has multiple content writers or your freelance business is focusing on content creation, this might be for you. If you are ready to immerse yourself in AI copywriting and master it, choose the best one.
For social media professionals: Copy AI . While Copy AI is somewhat able to create longer copies, the real benefits are in its ability to create high-quality short copies perfect for various social media platforms.
For experienced AI copy tool users and freelancers: Rytr : If the blank canvas does not scare you and you want to have a friend who supports you in creating killer content rather than a tool that does it all for you, go for Rytr. With its attractive price point, it pays off to spend a few extra hours experimenting with it.
For quick improvements and enhancements : Wordtune. Honestly, my favorite. This tool is affordable yet gives a solution to an exact problem. A Copywriter's dream.
For irregular content needs: Chat GPT . Yes, I said it. Unless you are working in the content department, you probably do not need all the fancy tools presented above. Experiment first with Chat GPT (to which most AI content tools are based on anyway) and see whether you need more.
For hardcore SEO and heavy content needs: Frase.io . This is a golden ticket. Frase.io is a must-have resource for anyone serious about SEO and content creation.
And with that, it's a wrap! Now go and explore the wonders of AI copywriting - or, just stay a bit longer to read our article on how to do a SEO Page Content Analysis .