E-mail marketing will still be one of the most effective digital marketing channels in 2021 if the advertiser has a high-quality e-mail list that is large enough.
However, not everyone has a large and high-quality e-mail list.
Google offers everyone the ability to do e-mail marketing without the need for the advertiser to send even a single e-mail.
Gmail ads
Gmail ads is not directly comparable to high-quality traditional e-mail marketing, but Gmail advertising has the added advantage of good targeting and scalability.
Gmail ads appear as messages marked as ads in the Gmail promotions tab or the social tab, whether you open your e-mail in a browser or the Gmail app on your phone.

When a person clicks on an ad message, an ad opens with an image and a call-to-action button.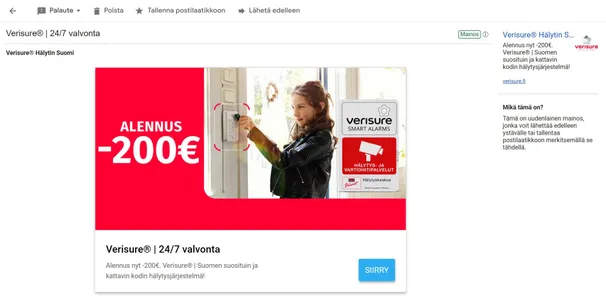 Gmail ads targeting
Gmail ads is managed through Google Ads. To create a Gmail ad, select the Gmail campaign below the display campaign.
Google Ads has three Gmail ads targeting options
Keywords
Keyword targeting works differently in Gmail ads than in search engine marketing (SEM). Gmail ads advertisements are targeted to people's interests based on keywords.
Audience
Audience targeting works in the same way as other Google Ads formats. For example, your audience may be your site visitors in the form of remarketing. An advertiser can also upload their existing e-mail list to Google Ads, which creates a similar audience based on the e-mail list.
Demographic information
Demographic targeting refers to the age and gender of your target audience. Demographic targeting can work very well when a product or service advertised by an advertiser has a clear demographic audience.
Create a Gmail ad that works
The most important element of a Gmail ad is the title of the ad.
The advertisement's title is the key factor that makes it possible to get the target audience's attention. A working title should grab the reader's attention and entice the reader to click on the ad and open the message.
A title that works does not need to be predicted using a crystal ball, but different variations of the titles should be A/B tested so that the best title can be found based on data and analytics.
Creating a Gmail ad
Gmail ads can contain text, an image, video content and are easy to create in the Google Ads dashboard. Advertisers can also create a custom HTML ad and upload it in a zip file to Google Ads if they like.
Who is Gmail ads for?
Gmail ads work for almost any product,service, or industry. The most important thing is that the advertiser has a good offer and interesting titles in the ads so that people click on the ad messages.
Gmail ads should not be thought of as an alternative to other types of ads but as one marketing channel that should be used alongside different kinds of ads.
Gmail ads pricing
Competition between advertisers is significantly lower with Gmail ads than in the most popular digital marketing channels, and as a result, Gmail ads is often very inexpensive to the advertiser.
Advertisers always pay for clicks with Gmail ads. The cost of each click depends on the market area and the competitive situation, but the rule of thumb is that the price of a click is almost always lower than in search engine marketing (SEM) and often lower than in-display advertising.
Do you need a knowledgeable marketing partner to help you with your advertising?
Do you need a knowledgeable marketingpartner to help you with your advertising?
We create Google Ads for businesses of all sizes in a wide variety of industries right here at Daniliants Ventures. We focus on achieving results and creating ads based on data and analytics. Contact us now!
‍