Are you ready to present your products in front of hundreds or thousands of eager shoppers around the world?
In this day and age, almost any platform can be considered as a potential platform for shopping. Social media influencers and opinion leaders are able to make us consider purchasing whatever it may be just by asking us to swipe up on Instagram Stories while enticing TikTok videos appeal to Gen Z.
Many feel that their sensory systems are overloaded with notifications, advertisements and persuasive messages so much that we pay for floating on a sensory deprivation tank for mere minutes. Yet the megatrend of shopping online is nowhere near to its end.
This is where live shopping comes to relieve the anxiety of scrolling endless pages yet buying items based on very little information. Live shopping minimizes the need for the client to be well-informed about the brand and its fit to them while also helping the shopper to make more informed decisions. In other words, potential buyers need to do less for being more informed and therefore, being more likely to proceed to checkout.
Furthermore, the customers get an experience similar to walking into a store or visiting a brick and mortar shop - except you don't have to leave your home!
McKinsey predicts that sales via live shopping could "account for as much as 10 or 20 percent of e-commerce by 2026. But what exactly live stream shopping is, where did it come from and why should you jump on the bandwagon of live shopping? Let's find out.
Live Shopping 101 - The basics of live shopping
Simply put, live shopping refers to streaming an interactive shopping experience either on a platform dedicated to providing such services or in any social media platform where streaming live shows is possible. In former cases, buyers are able to scroll and add the products presented to their shopping cart in real time while watching the show on the same screen view.
This concept has been gaining popularity with many retailers because it can be a great tool for both current customers who want more information about their favorite brands and potential buyers looking up what items might work well for them before making any purchases online.
Unlike with regular online shopping, the goal of live shopping is to create a space for authentic interactions with customers. These shopping shows are hosted by sales assistants, influencers or both. The aim is to offer customers a way to engage with the hosts who are there to answer any questions and help motivate purchases, leading into sales at the end.
And, although live shopping is oftentimes compared to home shopping channels such as QVC, the differences are evident when comparing and contrasting them: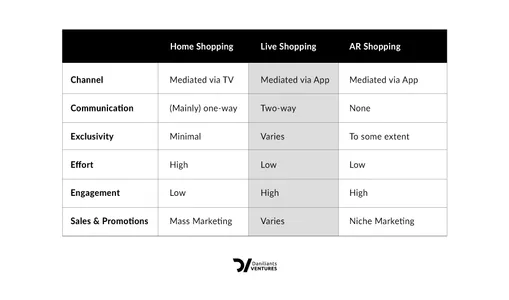 Furthermore, it is good to note that live shopping should be distinguished from AR shopping - also a growing trend especially in eCommerce. Augmented reality in shopping adds another realm to the shopping experience that is not based on communication but rather technological advances. Advanced live shopping services can also include AR, but AR shopping also exists on its own.
Success in Asia
On Single's Day in 2019, a Chinese online shopping platform TaoBao presented an influencer livestream with more than 43 million viewers in 8 hours according to Forbes. This event marks one of the most famous turning points for the live shopping boom.
As with many trends, it should not come as a surprise that the trend of live shopping started in Asia. This is especially true for China where it took less than five years for live shopping to grow from an exciting trend to a substantial part of how eCommerce is seen in the Chinese retail market. What started from TaoBao several years ago is expected to turn into a 423 billion dollar industry by 2022 only in China alone.
Since being on top of the hottest trends and fads is at the core of consumerism in Asia due to the more collectivistic nature of the culture, Japan and South Korea have quickly joined the bandwagon of live shopping. In 2021, the most influential department stores Lotte and Hyundai are experimenting with live shopping across the major cities in South Korea, the latter expecting a 90,5 million dollar in sales.
Where Asia comes first, the West soon follows. The live shopping trend has been steadily growing in Asia for a while now, but it's just starting to gain traction in the US and Europe. Business Insider has predicted that the live shopping industry will become a 6 million dollar industry by the end of 2021 and continue to grow up to a 25 million dollar industry by 2023. Similarly to Asia, the main industries to experiment with live shopping are in retail.
In Europe the experiments some companies are taking with live shopping are of smaller scale yet some robust glimpses of success can already be seen. According to McKinsey, a German beauty retailer has reported a conversion rate of up to 40% from its weekly live streaming sessions. Additionally, some brick and mortar have found private video calls appealing during the pandemic when everything has shifted online.
Show your products in action with live shopping
Although some benefits are evident like having the possibility to ask questions on products or services and get answers real-time, some are less obvious. For instance, platforms designed for providing live shopping streams allow stores to set up discounts and promotions available only during the live show. Since the basic call for urgency is at the core of marketing, you can probably imagine how the existing customer base could react.
Live shopping can make otherwise foreseeable product launches into thrilling shows including behind the scenes footage, special deals and more. The spontaneous nature of live shows surely catches your customer's attention!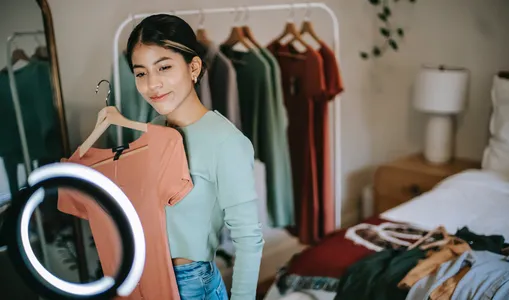 Live shopping also utilizes the logic of social media. The UX is on par with the most popular social media apps where people can like, comment, tag and share. The logic is by default attractive, encouraging viewers to engage with the content. Live shows hosted by an influencer draw their followers to watch the show and therefore bring a great number of potential customers to the company. If the brand match is accurate, the followers should fit into the target audience of the company naturally.
Overall, live shopping can be seen as a social media format for eCommerce. Like many social apps, live shopping platforms are no different in that they aim to bridge the gap between experiences of two-way communication and the convenience of staying connected regardless of the location - be it next to the store or 2000 miles away. And this is why live shopping has grown in magnificent speed - live shopping answers to the core problem of eCommerce of providing a truly customized, unique and meaningful shopping experience with a sales expert in an exceptional way. But who are the people who buy from live streams?
Live shopping attracts beyond generations
It comes as no surprise that Generation Z and Millennials are the most prone to buy goods from live shopping streams. As digital natives, Gen Z were born with trust towards purchasing items online; it's just a natural way for them. And although millennials have experienced vast changes in technological advancements over time (notably those caused by social media), they are likely to see live shopping as a natural extension of their shopping habits.
It is, however, short-sighted to expect that older generations, especially Generation X, would not be willing to make a purchase via streaming services. Although the parents of Gen Z may expect more stability and possibility to purchase with debit and credit cards, a great number of them have adapted and embraced the digital shopping platforms due to their convenience in their busy everyday lives. After all, purchasing groceries online for the whole week has become a thing for families. They present purchasing power for more costly items and appreciate good value for money.
Depending on your target group, you should focus on following things when implementing live shopping: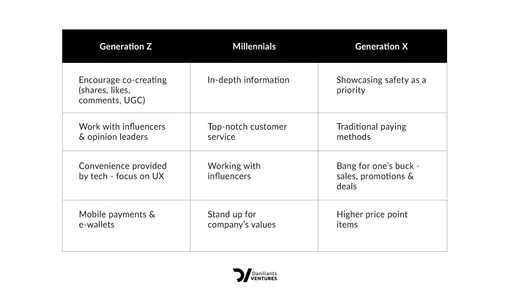 We know that while this guide will help you get started on your live shopping strategy, it's important to remember that sometimes viewer demographics may give one a surprise. Based on McKinsey's research it can be expected that different groups of people will engage and buy products during live streaming sessions than what was expected beforehand. Therefore, monitoring viewer data and applying changes based on it should not be forgotten.
The trend encompassing various industries
Traditionally, home shopping has been a shopper's oasis of fitness equipment and various gadgets that will end up at the back of your cupboards after initial excitement dissipates. While this method relies mostly on novelty with promotions being its only strong point; live shopping is touted to offer an authentic experience in comparison - a lucrative business idea for any industry looking into it.
The major players in the live shopping market are brands in apparel and fashion, fresh food and snacks as well as beauty products. Overall, these three industries take the major chunk of the current live stream shopping market. Nevertheless, there are also companies utilizing it in other industries such as automotive and electronics. Therefore, no company should disregard live shopping as a trend for one or two B2C industries but rather look at the possibilities with an open mind.
How to master the art of live streaming and eCommerce?
While giving a comprehensive guide on how to implement live shopping to your organization is unlikely possible to do in one blog post, the core idea of the strategy should focus on being omnichannel. Before your customer base has familiarized themselves with this new way of providing content, promotions and information, there will be a period of doubt.
The omnichannel approach can minimize the length of a customer's doubting period since they are aware that exciting additions may be coming. It is important to promote these sessions well in advance on your own channels and include promoting them on influencer's social media accounts for maximum exposure before an event or sale date.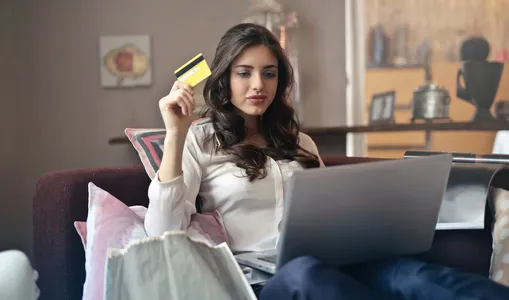 You should also address highly loyal customers by having private live streams and special deals just for those customers who want more exclusivity than others. Also, do not forget to utilize the live stream content in after sales marketing - let others know what they missed out on!
And once you are up there with the other big live shopping streamers, your viewers will know what to expect and then not much can stop steady streams of revenue.
Common ways to execute live streams
Essentially, there are three main categories of live shopping: public streaming sessions with sales associates, influencer-based shopping sessions and private one-to-one sessions. The aim of the session should dictate which model is utilized. Influencer-based shopping sessions bring value in the form of engagement whereas private sessions work well with high-value VIP level customers.
The most common format, however, are the public streaming sessions that attract a greater number of views yet their impact on sales may be visible later on as people may only stop for a few seconds on the session and recall the brand later.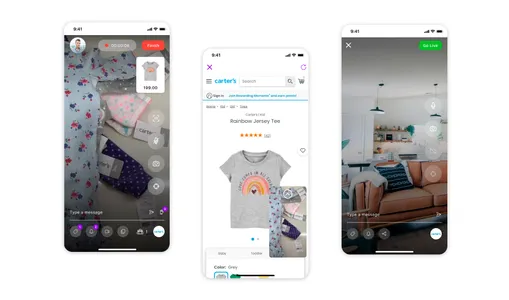 These three ways can also be mixed and experimented with when taking the first steps in live shopping. After all, the reason why live shopping broke through in China was with the help of celebrity-like mega-influencers. After gaining initial interest, Chinese companies extended to hosting private sessions with the most engaged customers.
Unlike Chinese eCommerce companies, many US and European equivalents tend to lean more towards utilizing micro-influencers. Micro-influencers often have better engagement rates and their relationship with customers is often more personal. Whereas Chinese live shopping leans for masses, the tendency in Europe appears to be towards more high-value customers.
Costs - what should I expect?
Budget allocations are ever so tough. Including another platform and channel to an already bursting marketing budget is not an easy task - especially in cases where the head of the decision-making body is still stuck in the 90s in regards to their understanding of marketing. However, you are in for good news since live shopping is a relatively low-budget investment especially in its early stages.
When calculating the budget, the company can basically expect three kinds of expenses: 1. Costs from views 2. Costs from deals with influencers 3. Costs of labor
Costs from views come from various sources. Firstly, applications developed for live shopping may take a nominal fee on each viewer or purchase. The benefit of such apps, however, is that they are fully tailored to the purpose of making purchases, thus covering the costs of all points addressed above is not an issue.
The second part of the budget likely goes to deals with influencers. Although an established brand can do extremely well with talented in-house hosts, most often there is a need for engagement and that is where influencers are perfectly positioned. Consider micro influencers in the beginning in order to not to break your budget on your first live shopping session.
The final part is basically the cost of labor. Your staff has to learn how to use the app, host the meeting and operate after the orders have come in and the show is over. Luckily there is no need for monthly-long courses to master the platform - a few hours and a good attitude should be enough.
Experiment and learn from mistakes - growth marketing attitude
Overall, becoming successful in providing unique live shopping sessions requires a truly experimental attitude from the company. When the show starts, anything can happen that could throw all your carefully planned plans out the window if shoppers demand something totally different from what you originally had in mind for them to show on camera. The hosts may forget what they were supposed to say, the products you were planning to present may not interest the buyers at all and, on the contrary, there may be so many questions floating around that there is no way to answer them all during one live session.
Regardless of all this, the company should embrace the unforeseen. They should not be afraid of exploring various time slots and various ways to execute the live sessions from more personal, limited sessions to megasessions with influencers. Like mentioned before, live shopping is prone to attract surprising audiences no matter how well aware the company is about their target audiences. TL;DR: embrace the entrepreneurial attitude and trust your instincts.
Avoid the pitfalls of live shopping
Failing is encouraged when experimenting with this emerging platform, but jumping into some pitfalls can be minimized by following these tips. Here are five common mistakes that marketers make and how to avoid them:
1. Downplay the value of setting goals and indicators Setting up a live shopping session is almost ridiculously easy. Simply choose the products to present, prep presenters for the show and monitor it all as they answer questions on air! The platform may however lose its initial glow if no goals are achieved - like how many sales or impressions were made during this event? Setting clear targets can help evaluate revenue from these events, thus it can be estimated what unexplored opportunities there might be with the platform.
2. Try to sell everything for everyone The urge to show each and every item during the live streaming show may be tempting. This could lead you down an unhappy path as many viewers look for curated collections as well as assistance from an expert who can guide customers through their shopping process so they're satisfied in purchase - like never before!‍
3. Fail to trigger a sense of urgency and exclusivity Existing customer base is the optimal place to start experimenting with live stream shopping since it is also the group that is likely to scroll through your online store on a weekly or even daily basis while looking for those special deals or limited edition items. Therefore, the live shopping event should make existing customers feel that they get value in return for their time. Promise sales coupons, give teasers on items showcased in the live shopping stream next week and provide exceptional customer service during the session.‍
4. Utilize existing social media features instead of tailored platform For many retailers, the natural approach for exploring live shopping possibilities is through social media platforms like Instagram and Tiktok. These apps don't give sellers enough potential to create sales because they are not dedicated as opposed to dedicated apps offering more features that can be used in creating an engaging experience with buyers while they are scrolling items up-close and real-time.
‍ 5. Throw the whole idea of live shopping to the trash bin after few attempts Like with any sales and marketing activity on digital platforms, there are no straightforward ways to move a great chunk of customers through the marketing funnel with one single solution. Live shopping can be difficult for some people, but it's worth the hassle. You might have innovators and early adopters who are already on board with streaming purchases; however most will need time to get used as live-stream shopping becomes more mainstream. Give these potential consumers enough exposure so they learn about how easy (and rewarding) this new way of buying things really is!
You are not late from the next big thing
This is the time to be at the forefront of livestream shopping, build meaningful customer relationships and generate more sales. Daniliants Ventures is the go-to destination for live shopping success. Whether you're a marketer or representative, we have strategies and tips to help increase revenue on your organization's live streaming initiatives! Drop off us a message to book a consultation on how to create growth opportunities with live shopping for your brand.