This week updates:
Read on to find out more.
1. SEO News
📢 Did Google's August 24th algorithm update improve search results?
🔁 A Quick Recap:
We were all waiting for Google to announce that the helpful content upgrade had begun earlier this week. This update adds a new site-wide signal to the mix of signals that are considered as ranking factors for web pages.
🛈 What You Need To Know
📌 Any site with a high volume of unhelpful content is less likely to rank well in Google Search.
📌 Websites identified by this update may see the signal applied to them over time. When it is determined that the unhelpful content has not returned in the long run, the classification will be removed.
📌 To classify content on its search engine, Google uses a machine-learning algorithm.
📌 Companies revealed a significant change in their ranking or traffic on Webmaster World.
📌 Most of the automatic tracking tools show consistency. However, others showed spikes.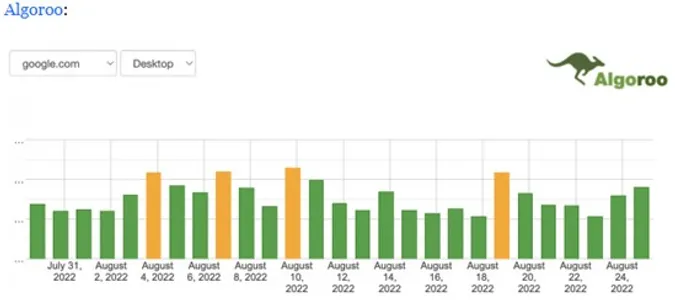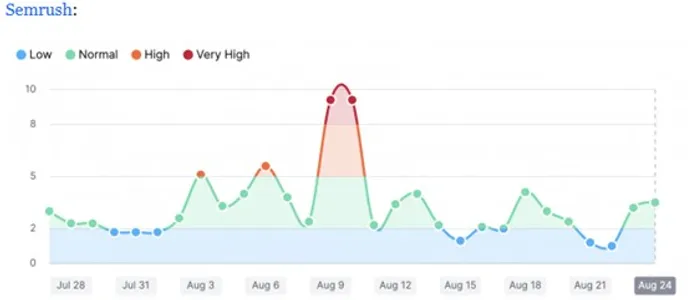 💡Top Tip:
✅ Removing unhelpful content may help your other content rank higher.
✅ Reviewing the best ranking content competitors after the change on core keywords.
✅ Shifting the content SEO focus to less keyword-dense approach.
Sources: Discussion on Webmasterworld
📢 Google Added a Sources From Across the Web Feature
🔁 A Quick Recap:
In the grid list view, Google includes "From sources across the web" box that displays pages that discuss a given topic.

This was spotted by Krishna Murari and it was posted on Twitter .
🛈 What You Need To Know
📌 You can explore and display recent stories from a specific site on a certain topic by simply clicking on the site.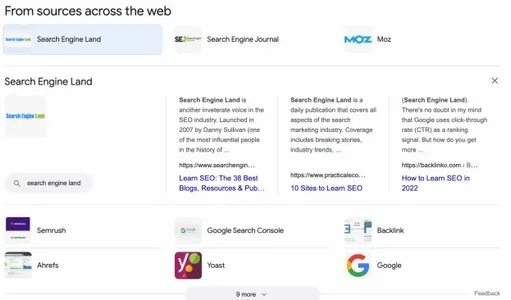 💡Top Tip:
✅ Try it for a search here .
Sources: Tweet of Krishna Murari
📢 Google is trying out a new 'Popular on Twitter' feature in Search Results
🔁 A Quick Recap:
The search engine giant is testing a new way of displaying tweets within search results, with a "popular on Twitter" panel giving links to related, trending tweets based on specific search terms.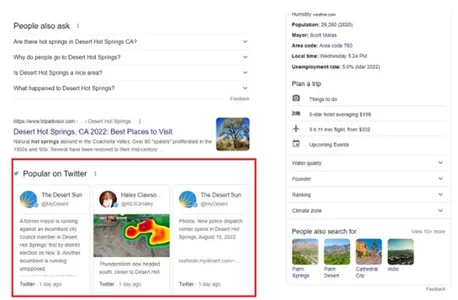 This was spotted by Shay Harel from Rank Ranger and posted several screenshots on Twitter .
🛈 What You Need To Know
📌 Google is attempting to incorporate more real-time engagement data into its search results, increasing the importance of tweets and generating more tweet engagement from specific search categories.
📌 If more tweets appear in more places in the SERP, the SEO emphasis on actual tweet activity increases.
💡Top Tips:
✅ Maintain a consistent tweet schedule.
✅ Keep an eye on related search activity and see which tweet results are visible on search results.
Sources: Tweet of RangerShay
📢 Google Discover lets you hide content from authors
🔁 A Quick Recap:
We recently noted that Google Discover displayed the author name under the article rather than the site name for some stories. Now, Google Discover can hide content based on who wrote it, no matter where it is published.
Francisco Zuasti discovered it first in July and posted it on Twitter . Glenn Gabe also observed it in English and tweeted about it on Twitter .
🛈 What You Need To Know
📌 When using name vs site and you click the 3-dot menu for more options, you can choose "don't show content from [author name]."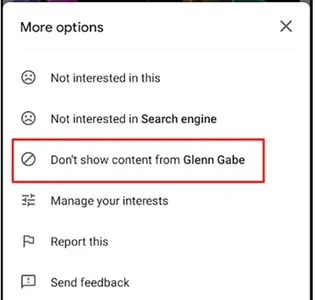 📌 Additionally, Web stories are ranking in Google Discover.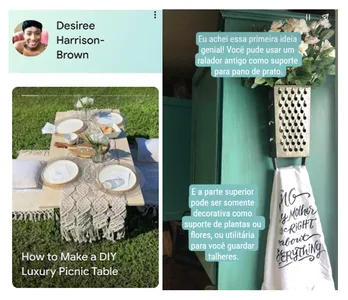 📌 It's surprising to find specific profiles with About Me info, which includes a quick bio & links to social networks (like Pinterest, Instagram, & TikTok)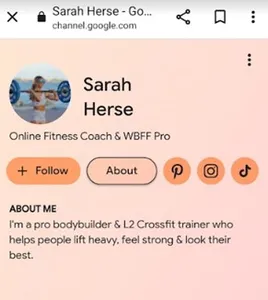 💡Top Tip:
✅ Follow us for more news, and make sure you use these updates.
Sources: Tweet of Francisco Zuasti
2. PPC News
📢 Google Adds New Viewer Attention Metrics for Display and Video 360 Campaigns
🔁 A Quick Recap:
Many complex ad procedures that marketers and agencies face are increasingly handled by automation. By combining your proprietary data and insights with Google's machine learning capabilities, you will be able to maximize your advertising effectiveness.
🛈 What You Need To Know
📌 There are two new custom bidding functionalities in Display &Video 360.
Optimize user attention;

Optimize user paths on your site.

📌 Attention is crucial for marketers targeting their target audiences in informal environments such as connected TV. Optimizing user attention is especially useful when direct conversions are difficult to measure. So, there are additional custom bidding signals like "player size" and "audibility" as extending custom bidding support to CTV.

📌 Another effective method is to bid on the most valuable stages of the purchase journey. Leading companies are tailoring bids and improving campaign effectiveness in Display & Video 360 using first -party data from their Google Analytics accounts.
📌 Data from any new Analytics 4 property, standard or 360, can be activated in Display & Video 360.
💡Top Tips:
✅ Keep an eye on the new metrics for future adjustments.
✅ Use some new tweaks in video ads assessment that may alter video ads' approaches.
Sources: Google
📢 Microsoft is putting ads in Outlook mobile
🔁 A Quick Recap:
Outlook users may organize their mailbox in two ways. There is a "focused" tab that contains important messages an "other" tab that has everything else. Previously, Microsoft only placed advertisements in the "other" tab for free subscribers, but users now see ads in the "focused" inbox.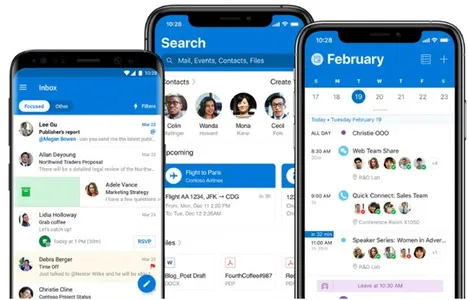 This was spotted by Nick Smith and shared on Twitter .

🛈 What You Need To Know
📌 Microsoft says: "For free users of Outlook, ads are shown in their inbox and they can choose to enable the 'Focused inbox' feature if they would like to see ads only in the 'Other' inbox."
📌 Users of the Outlook mobile app are dissatisfied with this move. The only option to prevent adverts appears to be to pay a Microsoft 365 subscription.
💡Top Tip:
✅ Embrace this excellent opportunity to capitalize on a less competitive placement.
Sources: Tweet of Nick Smith
3 Analytics News
📢 Google Deprecates International Targeting Report in Search Console
🔁 A Quick Recap:
The International Targeting report in Google Search Console has been deprecated, as Google announced on Twitter.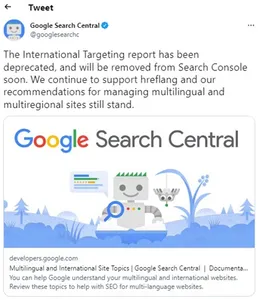 🛈 What You Need To Know
📌 As a result of this change, Google's International SEO advice has not changed; however, the International Targeting report will no longer be available.
📌 The report will be withdrawn on September 22, 2022.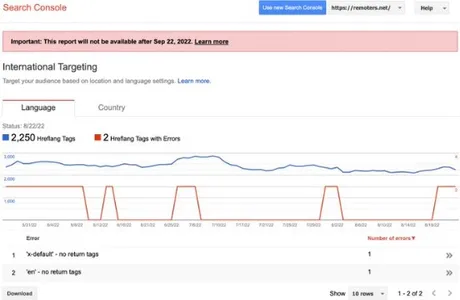 📌 Google is still committed to hreflang, and their recommendations for handling multilingual and multiregional sites remain unchanged.
💡Top Tips:
✅ If your site contains information in many languages or different content for various places, then here's how to assist Google in comprehending your site.
✅ If your site offers different content to users in different languages, countries, or regions, you can optimize Google Search results for your site.
✅ If you have multiple versions of a page for different languages or regions, tell Google about these different variations.
✅ If your site has locale-adaptive pages, Google might not crawl, index, or rank all your content for different locales.
Source: Announcement of Google
📢 The Google Core Web Vitals Report now includes URL level Data for Examples URLs
🛈 What You Need To Know
📌 Google posted on Twitter that URL-level data has been added to the example URLs in the Google Core Web Vitals report.
📌 Google also stated that it made textual modifications to the report "to make it clearer."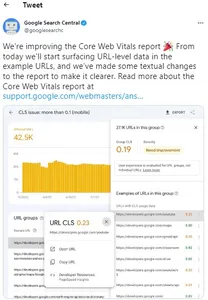 💡Top Tips:
✅ To fix poor UX on your site follow this link .
Sources: Tweet of Google Search Central
📢 BeReal has surpassed 10 million daily active users
🔁 A Quick Recap:
BeReal , the currently trending social media app, sends out a message to all users at a random time each day, asking them to submit a snapshot of what they're doing right then and there, with a 2-minute time restriction to publish an update.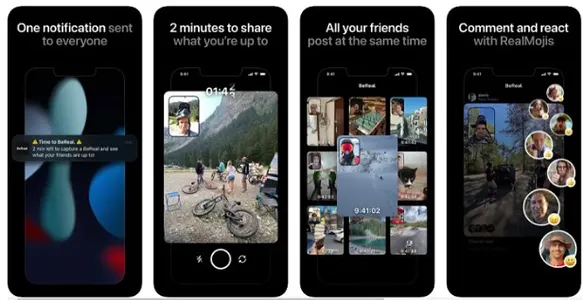 🛈 What You Need To Know
📌 The app is being marketed as the anti-Instagram, with an emphasis on actual, unfiltered everyday life rather than airbrushed, polished IG lifestyle pictures.
📌 Some brands, for example, Chipotle, has been experimenting with BeReal, utilizing the app to distribute unique promotional codes.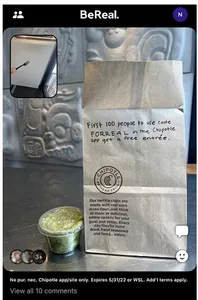 📌 Other brands are using the app to share behind-the scenes information about how they run their businesses, such as product previews and special deals.
📌 BeReal does not accept official advertising, but that might change in the future as the app grows and seeks to establish a more sustainable business model.
📌 The more significant issue is that BeReal's core appeal is relatively narrow and could be quickly reproduced by other applications.
💡Top Tips:
✅ Try using this app to entice engagement, which could point to possible marketing approaches via creative use cases.
✅ This app could be an effective strategy to improve connection and community.
Sources: Article "The Information"
📢 Pinterest now offers merchants hosted checkout
🔁 A Quick Recap:
Pinterest has now made it easier for consumers to check out on its site. Shopify is the first to provide hosted checkout.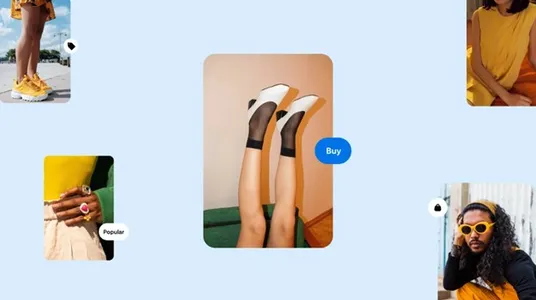 🛈 What You Need To Know
📌 Several stages in the purchasing process should be eliminated by the new functionality.
📌 Customers only need to submit payment and shipping information when they find a product.
📌 US business members of the Pinterest Verified Merchant Program who use Shopify can now use hosted checkout. Eligible merchants will see the hosted checkout area at the top of the Shopify app's shopping options.
📌 To see if you are eligible and to test the new experience, visit your Pinterest Merchant Center.
💡Top Tips:
✅ Do not hesitate to try this feature if you are eligible because it implies more sales and better organic distribution in home feeds, search, and shopping surfaces.
✅ If you are not eligible yet, you can use other shopping tools on Pinterest to create full funnel strategies that can assist in moving customers from inspiration to purchase.
Sources: Pinterest
📢 TikTok is experimenting with a new 'NearBy' feed highlighting local information
🔁 A Quick Recap:
TikTok is testing a new 'NearBy' feed that displays local content to users. The feed is being tested with select users in Southeast Asia. This was spotted by Brendan Gahan and shared on Twitter .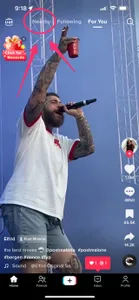 🛈 What You Need To Know
📌 Users will see the feed alongside the "Following" and "For You" feeds on the app's homepage.
📌 This would allow it to show users tailored and relevant material.
📌 TikTok would also catch up to Snapchat's Snap Map and Instagram's newly announced searchable map.
📌 The "For You" feature of the app may eventually include neighboring restaurants and hiking paths.
📌 TikTok's location-based recommendation tool, among other concepts, might influence sites such as TripAdvisor and Google.
📌 Users could save videos and come back to them later.
📌 TikTok is testing a new feed that lets users browse and purchase products from a number of different categories.
💡Top Tip:
✅ Use the NearBy feed to display advertisements for nearby businesses and services.
Source: Tweet of Brendan Gahan
📢 Snapchat Launches New Localized Lens Promotion for 'House of the Dragon"
🔁 A Quick Recap:
'Game of Thrones' prequel 'House of the Dragon' set to premiere on HBO this weekend.
🛈 What You Need To Know
📌Users on Snapchat can transform themselves into dragons via various AR activations within the app's Lens tools.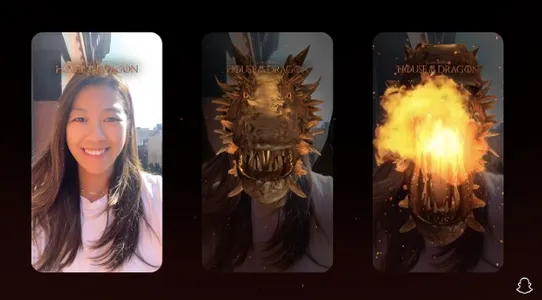 📌Snap has facilitate a new, global partnership, with various Lens makers, to enable new forms of localized engagement with these Lens activations.
📌In order to execute the campaign, HBO Max provided the Lens Creators with AR assets for each dragon to build the new Landmarker Lenses. Each Lens Creator personally selected the location for their individual Landmarker Lens, bringing a powerful local element to this global campaign.
📌The Lenses will be available at the following locations once the show begins:
Los Angeles - Venice Beach Grand Canals, built by Francis Chen
Rio De Janeiro - Princess Isabel Statue, built by Vitulo & Co
London - Tower Bridge, built by Clara Bacou
Chennai - Sankagiri Fort, built by RBKavin Studio
Mumbai - CST Station (IE Chhatrapati Shivaji Maharaj Terminus), built by Mohnish Raut and Persica Picardo

Prague - Charles Bridge, built by Inna Horobchuk

📌The activations will change throughout the season, with new dragons from the show.
💡Top Tip:
✅ In digital marketing, it might highlight a new method to collaborate with Snap's increasing network of artists to create lenses for more inclusive, locally relevant, and engaging experiences, which will lead to broader integration via their Snap campaigns.
Source: SnapAR
5. Tech News
📢 Instead of 5G connectivity, SpaceX and T-Mobile plan to provide Zero-G coverage
🔁 A Quick Recap:
SpaceX has announced a partnership with T-Mobile US to deliver space-to-ground internet to mobile phones.
🛈 What You Need To Know
📌 The project could enter "beta service" before the end of 2023, according to SpaceX founder and chief engineer Elon Musk.
📌 If you are asking yourself 'and - how this would work?' – Here is your answer! A user of SpaceX's Starlink service needs to have a dish-shaped terminal that can pull down broadband Internet from one of the 2,800 Starlink satellites in low Earth orbit.
📌 In a typical cell phone service, it should provide up to 4 megabits of data. This would allow connectivity in areas off the grid, or during emergency situations.
📌 T-Mobile wants to offer this service for free, first covering the United Stated, as well as much of the world's oceans, according to Sievert.
📌 Aside from regulatory problems, SpaceX confronts a number of significant obstacles in order to make this work, such as the design and construction of big satellites capable of communicating with mobile phones.
📌 Musk acknowledged that the company has a lot of technical work to do, but he claimed the SpaceX teams have made remarkable progress.
📌 SpaceX has already flown satellites from one competitor, Lynk, and will launch the "BlueWalker 3" demonstration satellite for another company, later this year.
💡Top Tip:
✅ If you want to be prepared for every update in the digital world, follow us.
Source: "The Washington Post" Article