New updated during this week:
Read on to find out more.
1. SEO News
📢 Google Isn't Finished With The Helpful Content Update
🔁 A Quick Recap:
The helpful content update was released on August 18th and began rolling out on August 25th.
🛈 What You Need To Know
📌 So far, there aren't any significant ranking adjustments due to this upgrade.
📌 "Update isn't done. It's also part of a continuing effort, as we've explained. We'll keep refining how it works. Directionally, the guidance we've given is what SEOs and creators should be considering."
This was said by Danny Sullivan on Twitter .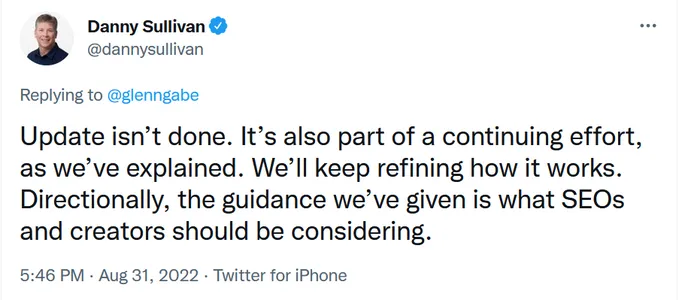 📌 Updates might not always imply a significant change. You're typically alright if you have good content.
📌 As for refining the signal, Danny Sullivan said on Twitter "I expect if we make really significant changes to how our classifier works, we'd give notice about that."
💡Top Tips:
✅ If some of the content you have isn't meeting what's advised about 'helpful content', then that's an indicator of what you should focus on and do.
✅ If there hasn't been any publicized update, but you observe a spike in traffic, it's a good idea to go through all of Google's guidelines and recommendations.
✅ Check this page to see when the update is done.
Source: Tweet of Danny Sullivan
📢 Google tests labels that indicate if content can be read in five minutes or less
🔁 A Quick Recap:
Any modification Google makes to its SERPs might affect which sites receive clicks and traffic, making this test one to keep an eye on. If this test becomes a feature, it might significantly influence recipe searches, which are frequently overstuffed.
🛈 What You Need To Know
📌Google is testing two new labels in search results: - Quick Read; - 5 Min. Red. This was spotted by Hardik Oza and Lily Ray and it was posted on Twitter.
💡Top Tip:
✅ There is no reason to reconsider your content approach at this time. Don't edit or split up all of your stories so that they may be read in 5 minutes or less.
Source: Tweet of Lily Ray , Tweet of Hardik Oza
📢 Google "See Results About" Is Gone From Mobile Search
🔁 A Quick Recap:
Google appears to have removed the "See Results About" disambiguation search feature from Google mobile search results on August 17thalthough they were visible on desktop.
This was spotted by Shay Harel and was posted on Twitter .
🛈 What You Need To Know
📌 It turned out it was a bug, and everything is working again.
💡Top Tip:
✅ We are constantly updated, so for issues like this, check our website.
Source: Trending SERP features
2. PPC News
🔁 A Quick Recap:
Google has revealed four new features for marketers to use in their ad campaigns and merchant feeds ahead of the Holiday season.

🛈 What You Need To Know
📌 Merchants and advertisers may now include more information in their purchasing campaigns, such as:
Conversion value rules for store and store visits;
Product -specific insights;
Deals Content API;

Shipping & Returns Annotations.

📌 You can now set store visits or sales default values at the campaign level. Smart Bidding can be used to set goals for visits and/or sales.

📌 Product –specific analytics are offered at the account level, assisting marketers in identifying unsuccessful offers, products with missing feed attributes, and comparing bids with top opponents.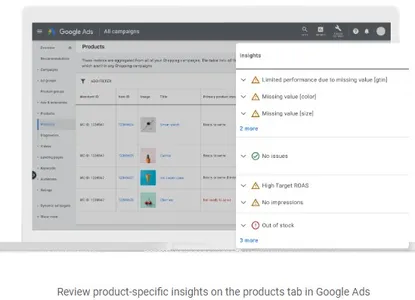 📌Merchants and advertisers may now use the Content API to add sales and promotions to their listings, making it even easier to publish and manage their deals at scale.

📌Merchants may now include the estimated delivery date and free returns in their adverts. Adding this feature will help shoppers stress less and convert more.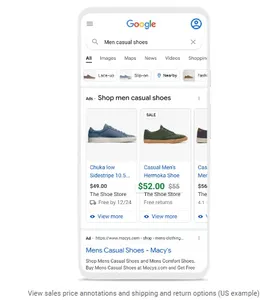 💡Top Tips:
✅ As an advertiser, you should optimize your in-store and online buying experiences.
✅ Keep your Business Profile up to date with your store address and hours, to make it easier for shopper to find your store.
✅ Grow your store foot traffic by promoting your location to shoppers in the area using Performance Max campaigns for store goals.
✅ Increase your reach by showing your ads to buyers who use wide match and Smart Bidding to search for phrases relevant to your keywords.
✅ Use responsive ads to modify your messaging based on shoppers' search terms.
✅ Use YouTube Video action campaigns and Discovery ads to leverage the power of your Google Merchant Center product feed and provide new shoppable options for your business in times of inspiration and discovery.
✅ With App campaigns, you can promote your app to consumers across Google's top domains, including Search, Google Play, and YouTube, and provide customers a smooth web-to-app purchase experience by setting up deep links.
✅ Start trying these new features now rather than waiting until the holiday season. View holiday best practices here .
Source: Google
📢 Microsoft Advertising RSAs Deadline Extends Once More
🔁 A Quick Recap:
Microsoft Advertising has again extended the deadline for switching from Expanded Text Ads to Responsive Search Ads. Instead of August 29, 2022, Microsoft has moved he deadline to February 1, 2023.
🛈 What You Need To Know
📌 RCAs will be the only search ad type that may be produced or changed in standard search campaigns beginning February 1, 2023.
📌 Expanded Text Ads will continue to serve alongside RSAs, however, we will no longer offer the ability to generate new or amend current Expanded Text Ads.
📌 Advertisers that moved from Expanded Text Ads to RSAs saw a 7% increase in conversion rate.
💡Top Tips:
✅ If you are still in the process of transferring, use the Recommendations tab in Microsoft Advertising online to add AI-generated RSAs based on your existing Expanded Text Ad asset. You may use the auto-apply recommendations to automate the implementations.
✅ If you already have RSAs set up in Google Ads, you can use the Google Import tool to mirror your campaigns and ad groups in Microsoft Advertising Editor or online with a few clicks.
Source: Microsoft announcement
📢 New Google Ads Conversion Value Rules Features
🔁A Quick Recap:
Google Ads can now apply rules to particular shop visits or store sales conversion categories. It's known as conversion value rules, allowing you to customize your conversion value reporting and Smart Bidding optimization. These conversion value regulation are not so new and were implemented in 2021.
🛈 What You Need To Know
📌 Conversion value rules allow you to define the worth of conversions better as they relate to your company, as well as simply alter values for conversions based on geographic area, device, and audience at real-time auction bidding.
📌 You may establish shop visits or store sales default values at the campaign level.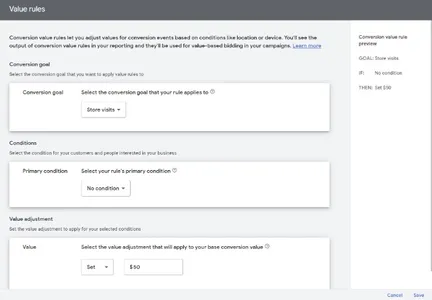 📌 Conversion value rules enable you to give extra value information not previously reflected in your account, like, different margins for various categories of users or lifetime value considerations, and optimize those values in real-time.
📌 According to Google, conversion values are altered according to specific rules, for example, increase value for users in Los Angeles by 30%, and reported in your account's conversion value column.
📌 Smart Bidding will also apply conversion value rules in real-time to enhance Target ROAS and Maximize conversion value.
📌 Only Search, Shopping, Display, and Performance Max campaigns have conversion value rules. Each rule can have two conditions: primary and secondary.
💡Top Tip:
✅ To optimize values in real-time to better meet your business goals and, of course, save time and provide more accurate performance data, use conversion value rules for different values across campaigns.
Source: Announcement of Google
3 Analytics News
📢 Google May Remove Word Count From Search Console
🔁 A Quick Recap:
"Article too short" is a Google News- specific article content error in Google Search Console. In that part, it recommends "make sure your article have more than 80 words".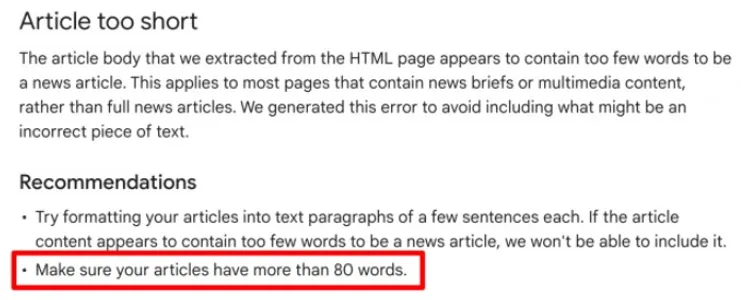 🛈 What You Need To Know
📌 Word count is not a ranking factor.
📌 Danny Sullivan stated on Twitter that the reference may be removed since "people shouldn't be stressing about word count".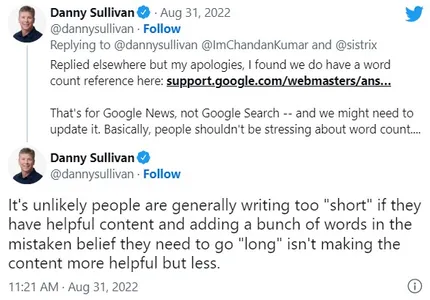 💡Top Tip:
✅ Do not pad content to fulfill word count requirements.
Source: Tweet of Danny Sullivan
📢 Google Adds Products Section To Business Profile Guidelines
🔁 A Quick Recap:
The Google Business Profile guidelines now include a new section for products.
🛈 What You Need To Know
📌 If you own a retail business, you can show local customers what you sell by adding your in-store products to your Business Profile at no cost.
📌 There are two ways to add in-store products to your Business Profile:
Manually upload your products with the Product Editor;

Simply add your products with Pointy.

📌 Both techniques must follow the following rules:

Products submitted via Product Editor or Pointy must adhere to the Shopping Ads Policy;
We do not allow content related to regulated products and services, including alcohol, tobacco products, gambling, financial services, pharmaceuticals and unapproved supplements, or health/medical devices;
Submitting products that violate Google's policy may result in removal of the entire product catalog, including products that aren't in violation.
This was spotted and posted by Stefan Somborac on Twitter .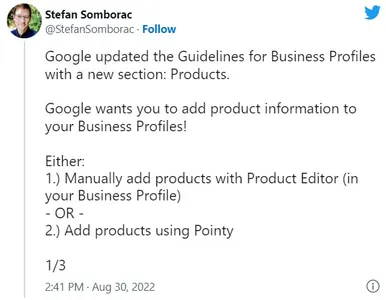 💡Top Tips:
Source: Support Google
📢 Two New Ways To Control Your Instagram Feed
🔁 A Quick Recap:
Your Instagram feed is a collection of photos and videos from people you follow, as well as suggested posts. Instagram has unveiled two new features that will allow users to choose what they see in their feeds. With new ways of hiding articles, marketers must reconsider the content they produce to stay in front of people.
🛈 What You Need To Know
📌 "Mark as Not Interested" is the first feature with an option to mark multiple posts in the Explore section. Those posts will be hidden, and users will not see anything similar in the future.
📌 The second new feature allows users to notify Instagram that they do not want to see recommended photos with specific words, phrases, or emojis in the captions.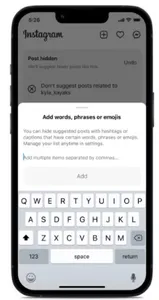 📌 Instagram offers several best practices to help you view more interesting posts, such as Favorites and Following.
Favorites show the most recent posts from a list of specific accounts you select, and you add up to 50 accounts to your list and edit it at any time – users are not alerted when their accounts are added or removed.

Following show you posts from people you follow.

📌 To use Favorites and Following, tap on Instagram in the top left corner of your page to choose what you see.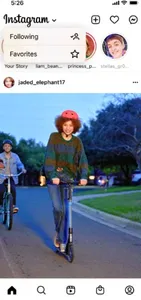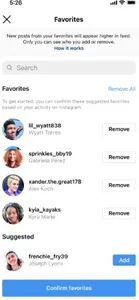 💡Top Tip:
✅ As a brand, you should analyze your Instagram statistics to see whether your target audience positively receives the content you are posting.
Source: Announcement of Facebook
🔁 A Quick Recap:
Twitter claims it is introducing Circles to all users on iOS, Android, and the web owing to an 'overwhelmingly positive' reaction to its new 'Circles' contained group tweeting option, which it was originally offered to selected users in May this year.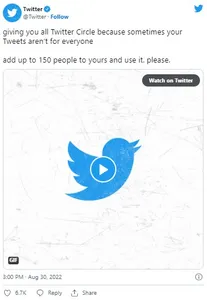 🛈 What You Need To Know
📌 Now you can invite all of your 'real ones' into your Twitter group chat, which keeps your conversations private and out of public sight, allowing you to retain more intimate contacts inside the Twitter experience.

📌 To manage your Twitter Circle, follow these steps: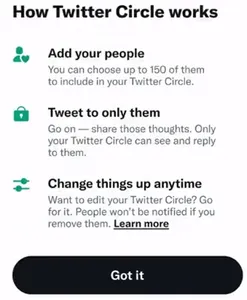 From the main menu, select Tweet to open the Tweet composer.
Select Everyone to display the Choose audience menu within the Tweet composer.
Select Edit next to the Twitter Circle option.
Under Edit your Twitter Circle, use search to find and choose people you want in your Circle or select someone from the Recommended list.
Select Add/Remove next to their name.
Click on the X to continue drafting your Tweet.
Now, when you select Tweet, only your Twitter Circle can view and reply to the Tweet you created.
📌 A green signal linked to each Circle tweet will warn members that individuals only in their group see their tweets in the circle.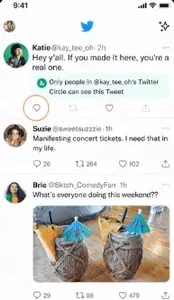 📌 Circles is primarily an expansion of Twitter's reply control options, which were introduced in 2020 and allow users to select who sees and responds to each of their tweets.
📌 According to Twitter, this might open up new community-building opportunities for marketers via the app.
💡Top Tips:
✅ To promote your latest items, you may create exclusive branded Circles for your best followers or invite-only groups for influencers.
✅ Circles are now available to all Twitter users across all platforms, so you better start experimenting now.
Source: Tweet announcement
🔁 A Quick Recap:
Edit Tweet is being tested only with a limited group to integrate feedback while identifying and fixing possible issues.
🛈 What You Need To Know
📌 Tweets can be edited many times in the 30 minutes after their publication.
📌 Edited Tweets will include an icon, timestamp, and label to indicate that the original Tweet has been edited. Tapping the label will send users to the Edit History of the Tweet, which includes previous versions of the Tweet.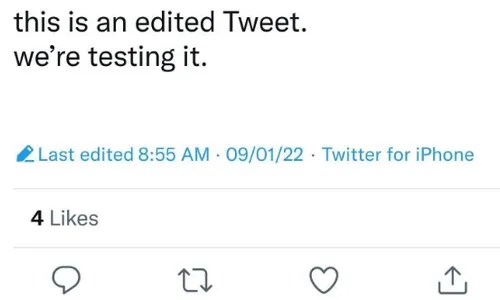 📌 Users will be able to edit text, images and video in a tweet, as well as alt text info.
📌 While it will be available only to Twitter Blue members, all users will eventually be able to use it for free.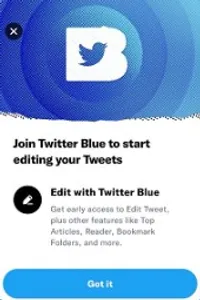 📌 Twitter's reason for not exposing this option to all users is to spark interest in Twitter Blue. "It's pretty clearly a money grab in this instance" – tweeted Adam Mousaa on Twitter .

💡Top Tip:
Source: Tweeter announcement
5. Tech News
📢 WordPress Security Vulnerability Update 6.02 Is Now Available
🔁 A Quick Recap:
WordPress has released a security and maintenance update that addresses three vulnerabilities.
🛈 What You Need To Know
📌 Because the updates may have been downloaded and installed automatically, it is important to verify that the website has been updates to 6.02 and that everything is functioning correctly.
📌 The update contains twelve fixes for the WordPress core and five for the block editor.
📌 One noteworthy change is an improvement to the Pattern Directory, will make it more appealing and usable from the theme author's perspective.
📌 There are three Security Patches:
The first vulnerability is described as a high severity SQL Injection vulnerability which requires administrative privileges to be executed;

The second and third vulnerabilities are described as Stored Cross-Site Scripting, one of which is reported not to affect the "vast" majority of WordPress publishers.

📌 Another vulnerability is to a JavaScript data library called Moment that WordPress uses, and it was assigned a CVE number, and details are available at the U.S. government National Vulnerability Database. It is documented as a bug fix at WordPress.
💡Top Tip:
✅ It may be useful to check that the site is working well and that there are no issues with the existing theme or installed plugins.
Source: Wordpress releases