It's time to dwell on several interesting happenings in digital marketing! News from SEO, PPC and Analytics to Social Media and Technology make sure you're bound to learn something new or foster your existing knowledge.
List of all news in digital marketing this week
1. SEO News
Google released new local search features, which the company announced at the Search On event in September. These new features include the following:
Search with Live View
While walking around outside, you can find information about your surroundings (buildings, signs and shops) using your phone's camera. This AR opportunity is available in London, Los Angeles, New York, Paris, San Francisco, and Tokyo on Android and iOS.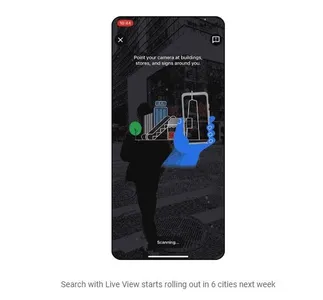 Discover the most suitable charging station
Google Maps facilitates locating the charging stations for electric vehicles. Search for "EV charging stations" and use the "fast charge" filter to find stations with chargers of 50kW or higher, allowing you to charge up faster. You can also filter for stations in more countries that offer your EV's plug type, in order to only see stations with plugs that are suitable with your vehicle. Both features are now accessible on Android and iOS in countries with EV charging stations.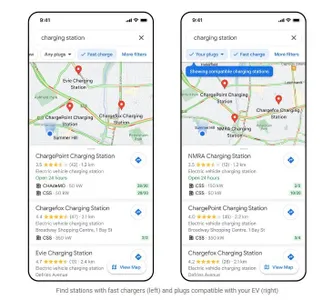 Possibility to find wheelchair accessible places world wide
Google Maps users can now discover accessible places all over the world. When users turn on Accessible Places in Google Maps, they'll see a wheelchair icon for businesses if they're accessible.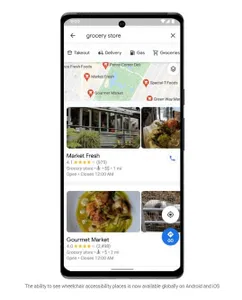 Source: Google Blog
To assist online stores in showcasing their products on Google's Shopping tab, Search Console is rolling out a new section for Shopping tab listings.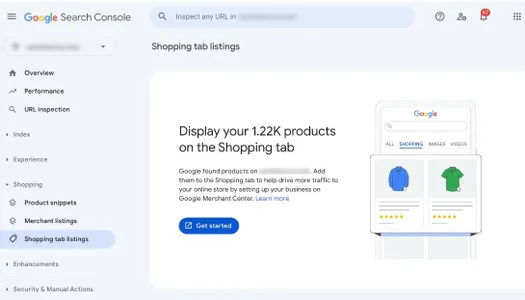 Shopping tab listings are now available to eligible online store owners who have put product markup in place. The new feature will be gradually implemented.
Users can get their products listed more conveniently with the new Search Console Shopping tab listings by syncing their Merchant Center with the tab.
Source: Google Search Central Blog
📢 Google: Dots Over Decimal When It Comes to Review Snippet Structured Data
As part of Google's updated review snippet structured data help documentation, dots are recommended over commas for decimal numbers.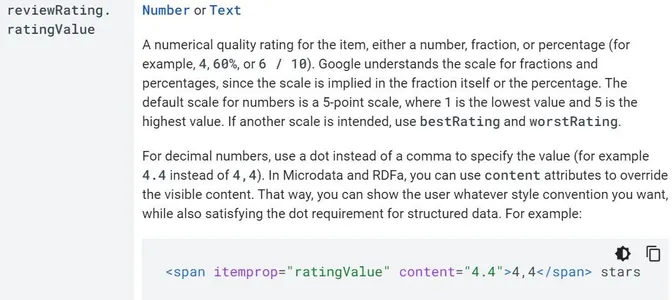 The purpose of structured data is to organize information in the form of code snippets that are used by search engines to better understand the content on a website. With the new guidance on how to present ratings, you can make an easy improvement to your structured data.
Source: Google Search Central
2. PPC News
📢 Google Ads Gives Advertisers $100 to Sign Up to Follow the Auto Recommendations
Some Google Ads advertisers have received an email from Google offering a $100 credit if the advertiser opts-in to automatically apply recommendations. Advertisers were not at all thrilled with this, as $100 even seemed like a ridiculous amount for the proposal.
The email was mentioned by Andres Cabrera on Twitter, where he shared his opinion: "mm noope! Thanks! definitely not worth it." Judging from the numerous tweets, the advertisers did not have a positive attitude towards the matter at all.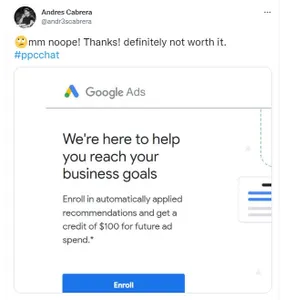 We'll see if anyone takes up the suggestion.🤔
Source: Tweet of Andres Cabrera
📢 Microsoft Video Ads Now Available in New Countries
Video Ads on the Microsoft Audience Network are now available in more countries, including the United States, Canada, the United Kingdom, France, Germany, Australia and New Zealand.
Video ads can be used as a complement to search and image ads in the form of a more comprehensive information presentation. As seen in the picture below, Video Ads can be a great conversion booster.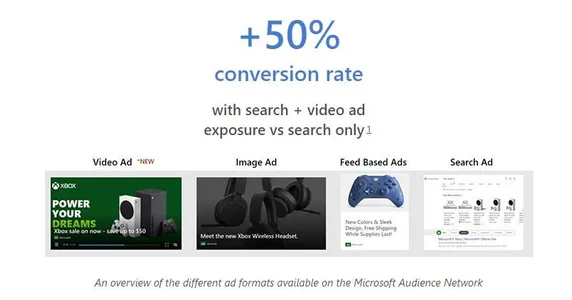 Microsoft also emphasizes which bidding strategy goes with which goal, as well as what the bidding strategy means in practice.

Microsoft video ads can last anywhere from six seconds to two minutes, but the company implies that videos no longer than 30 seconds generate the most engagement.
Find the step-by-step instructions on how to start a video ad campaign here .
Source: Microsoft Advertising Blog
3 Analytics News
📢 Improve Several Brand Aspects by Giving Customers a Positive Privacy Experience
According to Google and Ipsos, a bad privacy protection experience leads to almost as much negative impact as a data breach.
Google released a new privacy experience report the results of which are based on the 2021 privacy survey, in which 7,000 Europeans were interviewed about ads and privacy.
Google defines a positive privacy experience as an experience that creates a sense of control over a situation. A sense of control is achieved by offering the consumer freedom of choice and easy control over the use of their data. Consumers should be able to manage the cookie settings, choose which personal data the brand can keep and for how long, and find out how the data is used.
The report highlights four key points that can be influenced by a privacy experience:
Brand preference
Brand preference can be increased with a positive privacy experience. According to the study, 37% of Swedish and 43% of Dutch respondents would switch from their favorite brand to another if the new brand's Privacy Policy was better.
Trust risk
By offering a good privacy experience, brands can reduce trust risk. Bad data protection experiences were found to have almost as negative an effect on brand trust as a serious data breach. A negative privacy experience consists of not offering information and/or freedom of choice to the customer and a lack of transparency.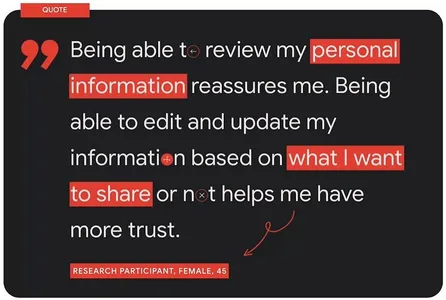 For example, poor processing of personal data weakened brand trust by 40 % in the Netherlands.
Value exchange
Consumers feel that in return for giving their personal information to a company, the brand should have good data protection practices. According to the research, the previous idea that consumers perceive the monetary value obtained from providing personal information (e.g. personal discounts) as positive is not so straightforward.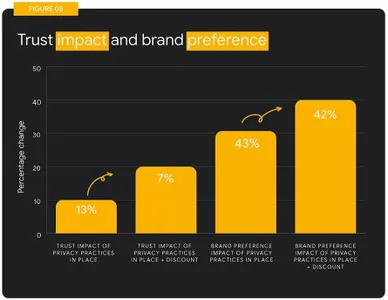 The survey found that some respondents felt uncomfortable with having their personal information monetized. For brands with good data protection practices, an additional monetary incentive did not help to further improve brand preference.
The feeling of control
The privacy experience should be one in which consumers truly feel in control. Google advises brands to ensure that the privacy experience is compatible with the culture and that it is meaningful, memorable, and manageable.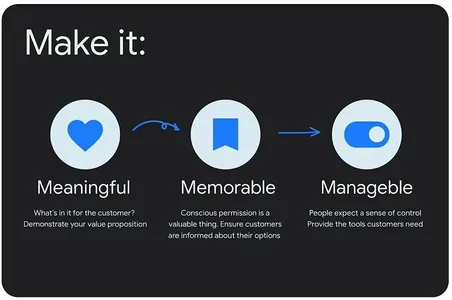 Source: Think with Google
📢 New Suggested Audience in Google Analytics 4
Google Analytics introduced a new suggested predictive audience that consists of 7-day unnotified users - users who have not been reached by push notifications.
Analytics allows you to specify the industry category of your company when you create a property. Analytics then displays a number of preconfigured suggested audiences (one of the GA 4 audience types) based on events that are important for a specific business.

Note : It's recommended to activate Google Signals in your Analytics property settings.
Note : Ensure that GA4 audiences are available in Google Ads by linking GA4 to Google Ads .
Note : if the migration from Universal Analytics to Google Analytics 4 has not yet been completed or is in progress, you can transfer your audience from the old platform to the new one using Google's Audience Migration tool .
Source: Google Analytics Help
📢 How Tech Decision Makers Are Leveraging Reddit - A New Report on Reddit's Opportunities
A new Reddit report explores how tech decision-makers use the platform and who you can reach through promotions on the platform.
The report includes many insights in the form of figures
47% of US tech decision makers have visited Reddit in the past month.

51% of tech decision makers using Reddit are women.

Millennials account for 44% of Reddit's tech decision makers.

72% of SME decision makers use Reddit to find peer reviews.

35% say finding trusted online platforms for peer-to-peer technology/product reviews is the most significant challenge in the decision making process.

90% of US Reddit users say they rely on Reddit for learning about new products and brands.

Among tech decision makers, 67% use Reddit to research products, solutions, and trustworthy reviews.
Reddit serves tech decision makers throughout the whole purchasing process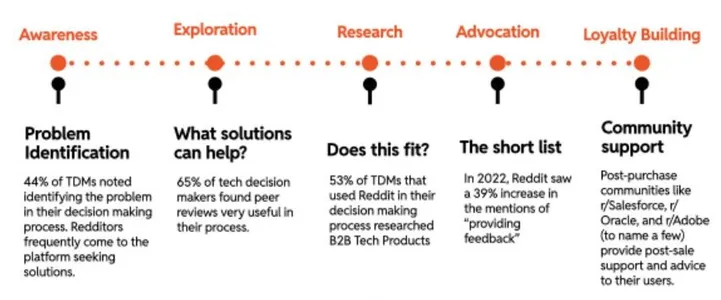 The top communities among tech decision makers
r/SysAdmin
r/Entrepreneur
r/StartUps
r/Developer
r/SmallBusiness
Now that the talk is on Reddit, if you're interested in the platform's advertising possibilities, read our comprehensive guide to Reddit advertising .
Source: Reddit Report
📢 Ad Credits & Guidance Available for Small Businesses on TikTok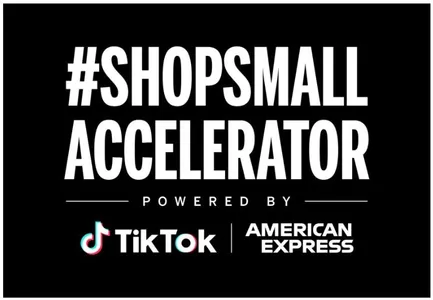 Small businesses are offered platform pointers, guidance, and even advertising credit for eligible brands through TikTok's new #ShopSmall Accelerator program, which is co-organized with American Express.
The new incentive program focused on small businesses is certainly necessary, as TikTok says it is increasingly the platform where consumers find small businesses. In fact, 58% of TikTok users said they discovered new brands and products on the platform.
What the program holds in practice
The program includes its own mini-site with tips, best practices, videos and links.

As part of the program, TikTok will also award eligible small businesses up to $250,000 in ad credits. After spending $50 on their first TikTok Ads campaign, SMBs will receive $100 in ad credits.

TikTok has also added new #ShopSmall stickers that brands can utilize in their TikToks.
TikTok is adding the Shop Small® soundtrack to give small businesses more visibility this holiday season and to make the most of Small Business Saturday® on November 26.
Source: TikTok Shop Small
📢 TikTok's New Survey Helps to Understand Parental Beliefs & Opinions About Online Security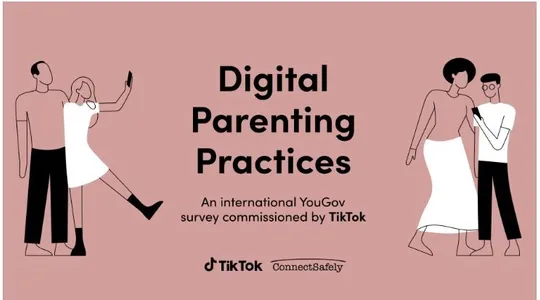 Tiktok and ConnectSafely released a study on how US parents talk to their teens about online safety and what attempts should be made to improve transparency and engagement around the topic.
The survey results help to understand the prevailing beliefs and opinions around online security.
Based on the results:
According to 78% of parents questioned, parents have the most responsibility to talk to their children about online safety, followed by social media platforms (7%), friends (6%), and teachers (3%).

61% of parents discuss online safety with their teen after the teen runs into a problem and informs their parents about it.

58% of parents talk to their teens about online safety after they see a negative change in their teens' moods or habits.

33% said they talk to their teenagers weekly about using online and social media platforms.

Moms are the most likely to talk to teens about bullying and harassment ( 60% ) and cheating/fraud ( 60% ), while dads talk to teens most often about screen time ( 49% ).

68% of moms and 50% of dads are confident talking to teenagers about body image. The body conversation is mostly gone through with daughters ( 45% ) compared to sons ( 28% ).

The most common reasons for not talking about body image are: mothers avoided discussing body image with their teenagers since they feel that teens don't want to discuss it and that the topic is covered enough in school ( 42% ). Dads, on the other hand, say they believe their teens don't want them to talk about it ( 41% ), and fear they'll make the situation worse ( 32% ).
Noting the importance of open discussion and parents' control, TikTok has released a series of initiatives to promote awareness about how to use their Family Pairing feature (a tool that allows them to control teen's account settings), including family-friendly community events, in-app educational material, and a national and local TV campaign.
Source: TikTok News
📢 LinkedIn's New Outline of Different Ad Types - Guide for B2B Marketers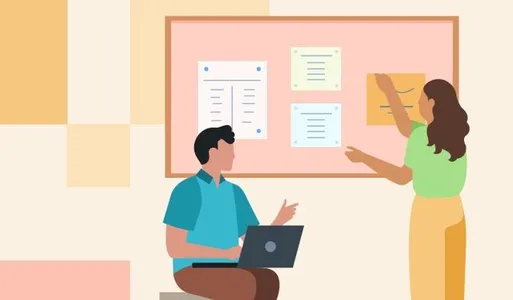 LinkedIn has released a new outline of its different advertising options to help you understand which ad types are best for each campaign.
In addition to an article, LinkedIn published a downloadable document on the specifications, strengths and situations in which each ad type and format is optimally used.
LinkedIn Ad Formats, Types & Best Practices
LinkedIn Sponsored Content - Single image ads, Document ads, Video ads, Carousel ads, Event ads.
Best practices for Sponsored Content : Make sure ad texts are short enough (headlines under 150 characters and description under 70 characters), include a clear CTA, share your own opinion on the content you share, use pictures of people, keep the single image ads consistent with your brand's colors and visual identity, make your video ads about 15 seconds long and subtitle the videos.
LinkedIn Sponsored Messaging - Message ads, Conversation ads.
Best practices for Sponsored Messaging : send sponsored messages from employees' accounts (not the organization's), define a clear goal for the messages, make the messages as personalized as possible and max 500 characters in length, don't include "not interested" buttons in Conversation ads, focus on the benefit achieved by the recipients, if they act as desired.
LinkedIn Dynamic Ads - Spotlight ads, Follower ads, Text ads
Best practices for Dynamic Ads : include a single CTA, explain how the person will benefit from clicking the ad, use a custom background image in Spotlight ads, use the Spotlight ad title for description and the description to directly address the person, Use professional titles of your audience in Follower ads, summarize the message of Follower ads in a clear and interesting manner
Lastly, LinkedIn has gathered the optimal use cases and objectives for each ad type: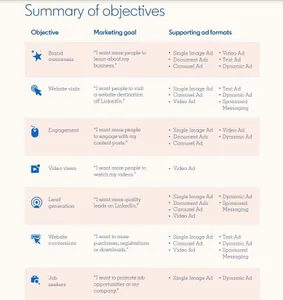 Source: LinkedIn Ads Blog
📢 WhatsApp Launches New Business Search & Payments Features
Whatsapp announced new features in the Meta-owned application, as follows.
Search Businesses by name or category
WhatsApp is introducing the ability to search for businesses directly from the app. Businesses can now be browsed by category or searched by name. People will no longer have to look up phone numbers on websites or type them into their contacts.
The search feature is now available in Brazil, Colombia, Indonesia, Mexico, and the UK.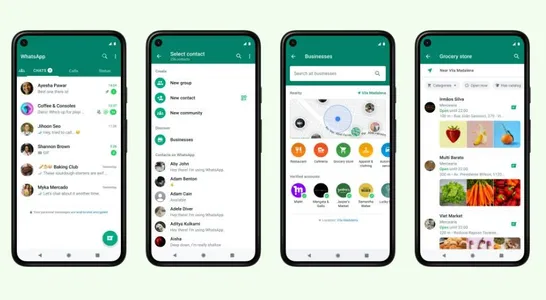 Testing of in-chat payment
Payments via WhatsApp are also being expanded by Meta. In India, a new payment feature is now available that allows you to pay by credit or debit card right from a chat. A similar feature is currently being tested in Brazil. Due to the new payment method, users no longer have to visit a website, open another app or pay in person to purchase or sell.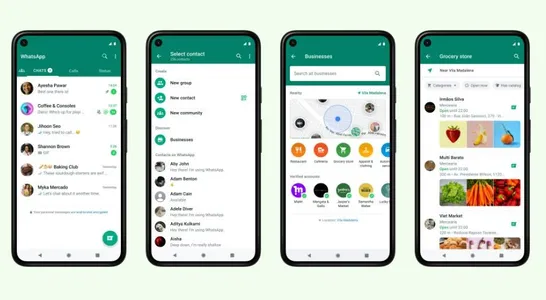 Source: WhatsApp Blog
5. Tech News
📢 Google's Been Fined a Record Amount for Violating User Privacy
Google has to pay a record amount of fines, 391.5 million, for violating user privacy in the US. The actions that led to the fines concern location tracking.
Google is considered to have misled users into thinking they had turned off location tracking in their account settings, even though the company continued to collect the data. Even with location data turned off, location data was collected by other services such as maps, search, and Wi-Fi connected apps.
In parallel with the privacy settlement, Google will also make its location tracking announcements clearer starting in 2023.
Source: New York Times